Just yesterday, we sought to assuage nervous Barcelona fans' fears and inform neutrals of reality by explaining that while reports of questionable reliability trickled out this week asseting that Brazilian superstar Neymar was seriously considering leaving Barça in favor of Paris Saint-Germain, nothing was actually going to happen. Probably. Hopefully. However, in light of newer, additional, even more reliable reports, all of which point to this transfer being extremely real, we should now update you on the latest. In fact, Neymar is definitely gone, and Barcelona fans should panic while PSG fans squirm in delight and everyone else laughs and laughs and laughs. Well, maybe.
As we noted in our prior coverage, the ultimate decider of whether or not Neymar would leave or not would be Neymar himself. If he wants to stay, he will stay. If he makes it clear he wants to go, then hurdles like his €222 million release clause and the fact that Spanish clauses must be paid in full by the player to the Spanish soccer authorities could and probably would be surmounted.
Surely though, attracted by the success and personal growth he's already enjoyed at Barcelona as one third of the greatest attacking trident the sport has ever seen, Neymar would rather stay where he was rather than join a noticeably inferior team in a much worse league, right? Turns out, this is not the case, as reported by one of the most reliable journalists in French soccer:
Ah, so this wasn't a case of PSG trying to unsettle Neymar in an effort to get back at Barcelona for unsettling Marco Verratti earlier this season, and instead was apparently Neymar's idea in the first place. Doesn't bode well!
On top of that, we have Brazilian outlet Globo Esporte reporting that members of Neymar's inner circle believe that Neymar is seriously considering PSG's offer. One source even told Globo it was a "50/50" proposition that Neymar was gone.
G/O Media may get a commission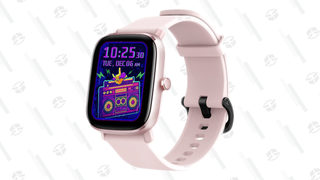 20% Off
Amazfit GTS 2 Mini Smart Watch
Get fit
Has built-in Alexa so you can ask questions and carry your smart assistant around with you; it has a battery that can last up to 14 days, has over 70 different sport modes, is 5ATM waterproof, and tracks stats like your heart rate, calories burned, sleep, and more.
Their explanation of Neymar's thinking had to do with money (PSG are set to double what he currently makes at Barça, a salary the Catalan club cannot match), with his desire to escape Messi's shadow (the biggest reason, they claim, and the one that makes the most sense), and with him wanting to play with some of his Brazilian buddies (PSG already have Brazil national team regulars Dani Alves, Thiago Silva, and Marquinhos on their roster, while Globo says Neymar was upset that Barça didn't bring in any of the players he recommended they sign this summer including Philippe Coutinho from Liverpool, Paulinho from China, and Lucas Lima from Santos—the latter two which would've been absolutely bizarre and terrible additions to the club). Again, bad news for Barça fans.
And it doesn't stop there. The most concerning report of all came only hours ago, when a very reliable Catalan radio station tweeted that Neymar's transfer to PSG is "95 percent done."
What's important here isn't the Club Mitjanit's "95 percent" figure, nor Globo's source saying Neymar was "50/50" about leaving, nor even the specifics Mohamed Bouhafsi reported about which party initiated things. What matters is that sterling sources from every press corps with a direct line on this stuff—from Spain to Brazil to France—all are reporting that this transfer is real and not only could happen, but looks likely. One lesser-known Brazilian reporter calling his shot is one thing, but when dozens of known entities start backing that up, then you know this is real.
Now, there's still the messy business of the release clause to contend with. It's not at all clear whether PSG can, at a moment's notice, muster up the €222 million in cash they'll need, nor is the mechanism through which the club can transfer that money to Neymar so that he can get out of his contract with Barcelona through the official channels. (Though there are theories.) But as we said before, if Neymar wants out, it will most likely get himself out.
In conclusion, disaster has struck Barcelona, the far and away best player age 25 or under is about to slip away in baffling, humiliating fashion, and there's not much of anything the club can do about it. But maybe things do another 180 tomorrow and Neymar stays. This is why the transfer window is amazing.