Neymar is currently the world's second-best player, playing for what is currently the world's second-best team. He makes lots and lots of money at Barcelona, scores and sets up tons of goals, has won loads of trophies, enjoys an obvious and seemingly genuine connection with the world's best player, and along the way has grown and developed to such a degree that he now looks prepared to fully live up to the preposterous expectations placed on him since he was a teenager. In short, Neymar seems to be happy and thriving right where he is, and the idea that either he would want to leave or that Barcelona would want to sell him is, on paper, a laughable thought.
Jokic? Embiid? The NBA MVP is obvious... right? | Keep it a Buck(et)
And yet here we are, in the thick of silly season, with rampant speculation (calling the notoriously unreliable midsummer transfer articles that appear in the soccer world's press "reports" feels like a disservice to actual, reliable reporting) that Neymar is willing to leave and that PSG are willing to pay the head-exploding €222 million release clause that it ostensibly would take to pry the 25-year-old phenom out of Catalunya. Almost all logic would point to this not being accurate, that Neymar will not actually leave Barcelona this summer. But it is technically possible, so you can't rule it out entirely.
What makes this week's slate of articles linking Neymar to Paris Saint-Germain more believable than the usual "Superstar that everyone knows is not going to leave is reportedly going to leave" transfer rumor-monger fare is the quality of reporters attesting to it. Most notably, you have the widely respected Gianluca Di Marzio—the closest thing European soccer has to an Adrian Wojnarowski or a Adam Schefter—reporting that PSG are serious about triggering Neymar's release clause. Di Marzio is as trustworthy a source on this kind of stuff as exists, and even though he's generally more plugged into the dealings of Italian clubs and isn't quite as spot-on when reporting on deals that don't involve Serie A teams, if he's saying this then it's a safe bet that there is at least something going on here.
On top of Di Marzio's report that PSG are seriously interested in doing the deal, there was also a report yesterday from Brazilian journalist Marcelo Bechler that not only is Neymar also willing to entertain PSG's advances, he has already agreed to move there. And just today, Bechler is reporting that Neymar has already told his buddies in PSG's squad (the French club is lousy with Brazilians like Dani Alves, Thiago Silva, Marquinhos, Tiago Motta, and Lucas Moura) to expect him to join them sooner than later. Bolstering Bechler's info is Britain's No. 1 Chelsea/José Mourinho water carrier, reporter Duncan Castles, who echoed Bechler's reporting that Neymar and PSG have already come to an agreement. In less than a week we've gone from the on-paper blissful marriage between Neymar and Barça to reading in papers all over the world that a divorce is imminent.
G/O Media may get a commission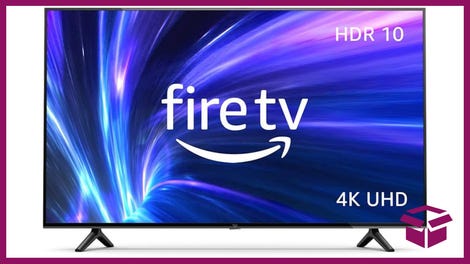 42% Off
Amazon Fire TV 50" 4K Smart TV
Regardless of PSG's intentions, none of this would matter if Neymar didn't want to leave. On that front, we have reports from Spain that claim the Brazilian forward "is uncomfortable at Barcelona" and would be open to a move to PSG. Why would this be the case when it seems like everything is so perfectly set up for him at Barça? There is money, of course, which PSG could offer a lot more of than Barcelona currently pay him. On top of that, Neymar allegedly doubts whether he will ever be able to cross that final threshold as the best player in the world, going so far as to win the Ballon d'Or, while playing as Lionel Messi's No. 2 man.
As sensible as PSG's interest is (of course a mega-rich club like PSG would want to buy the second-best player in the world) and as arguably understandable as Neymar's reported concerns are (it is no doubt amazing to watch Messi and Neymar and Luis Suárez all line up in the same side, but it's also something of a shame that, for instance, the Barça version of Suárez has been a much more limited player than the all-around tornado that was the Liverpool edition, and that Neymar isn't given the freedom to fully flex at Barça the way he is when playing for Brazil), and even if all the reports that PSG would pay the money and that Neymar would leave are true, there's still Barcelona's interest to contend with. And that, more than anything, is why it's hard to believe this move actually happens.
While Neymar does have a release clause reportedly set at €222 million, and the the whole point of triggering a release clause is for the potential buying club to automatically sidestep any negotiations with the selling club and go straight to the player, there are a couple particularities in this case that don't make this so simple. For one, Spanish release clauses don't work like they do elsewhere. In Spain, release clauses are clauses to be triggered by the player himself, not actually by the club attempting to buy the player.
This means that in this scenario, Neymar himself would need to go to the bank, write a personal check to the Spanish soccer federation for €222 million, and only then could Neymar and PSG negotiate contractual terms directly without worrying about Barcelona meddling with the deal. In most situations this legal reality of transfer clauses needing to be paid by the player in a lump sum plus taxes is ignored, since clubs usually won't get in the way of a player of theirs moving on for a fee the two parties already agreed to. However, it's not uncommon to see La Liga teams sell players for fees higher than what is stipulated in the release clause (see Real Madrid's recent purchases of Dani Ceballos and Theo Hernández), or sometimes even to reject lucrative transfer proposals all together unless the player goes through the formal release clause process (see Manchester United's first failed attempt to sign Ander Herrera from Athletic Club a few years ago).
So the only way Neymar could go to PSG against Barcelona's wishes would be for PSG to pay Neymar €222 million right this minute to cover the release clause. And as rich as PSG are, I seriously doubt they have that kind of cash just laying around, not to mention what that gigantic expenditure on transfer fee and salary (from the bandied about numbers, the entire operation would cost more than half a billion Euros) would mean for their Financial Fair Play status.
Hopefully you're starting to see why this transfer is so unrealistic. PSG probably do wish they could pull off this move, but it's highly unlikely that they have the money on hand to make it happen. Maybe Neymar is as disaffected as the Spanish media claims, but that in itself is doubtful (every time the guy himself speaks, all he does is gush over how much he loves playing for Barcelona and Messi); and anyway, it's hard to image how leaving Barça to play for an inferior team in an inferior league, when Barcelona would use all that money to reinforce their existing squad, would do that much for Neymar's chances of overtaking Messi and Cristiano Ronaldo in Ballon d'Or voting in the next year or two.
Again, though, you can't say definitively that this won't happen. It's not all that hard to imagine Barcelona (stupidly) taking PSG's money and running. Take the following scenario: Barcelona, with an aging squad that the board has been grossly incompetent at replenishing in recent years and a huge, costly stadium renovation plan on the horizon, get word directly from PSG that they're willing to do anything to sign Neymar, and hear from Neymar himself that he wants to move on. In the face of all this, maybe PSG admit that they can't afford a €222 million transfer fee but they would be willing to do a €130 million bid that includes swapping Marco Verratti, the world-class midfielder that Barcelona have long coveted. With that excess money, maybe Barcelona think they can fill Neymar's spot on the pitch with a younger, cheaper option like Borussia Dortmund's Ousmane Dembélé (or better yet, Dortmund's other young stud, Christian Pulisic).
It would be killing three birds with one stone: Barcelona would get the crucial controlling midfielder they've desperately needed ever since Xavi left, they'd sign one of the five or so most promising attacking talents on the planet in Dembélé, and they'd shave a whole lot of money off their wage bill on top of the transfer profit they very well might end up with, which could prove an important boon in their efforts to fund the new stadium plans. For the bean-counters in Barça's board, this would appear to be a tantalizing proposal.
Ultimately though, this probably won't happen. Since all this came out, Barcelona have been adamant that Neymar is not going anywhere—a sentiment that communicates their staunch opposition to losing the only player that as of right now looks even halfway capable of approximating Messi's talents as the Argentine wizard hits the back end of his prime as well as a hint of fear that PSG might somehow call their bluff and find a way to trigger Neymar's release clause anyway. (It's also hard to shake the feeling that this entire ordeal is borne to some extent out of revenge, as a response to PSG's utterly humiliating 6-1 collapse against Barça in the Champions League last season and also to Barça's attempts to steal away Verratti earlier this summer.) PSG probably don't have the money to make the transfer happen without Barcelona's permission, nor do Barcelona seem willing to find a workaround that would see Neymar leave. (And PSG buying Neymar but in the process losing Verratti would defeat the whole purpose of the move.) But again, who knows what riches lay behind the mountainous Qatari vault the Paris club has access to.
This probably all rests on Neymar's own thinking. He's already ascended to the uppermost tier of talents in world soccer while playing beside Messi, and his 30-year-old teammate won't be what he is now for too much longer. Still, Neymar is 25 already, and shunting such a ridiculously skilled player way out on the wing, forcing him into the relatively constrained role managers have tasked him with during much of his time at Barcelona for the benefit of Messi, has to be frustrating at times. It's no coincidence that Neymar's best spells in Blaugrana have come when Messi has been out injured. How much longer will he tolerate wasting energy doing the defensive dirty work before he gets fed up and decides that he doesn't want to be Scottie Pippen anymore and leaves to try to prove he can be Michael Jordan?
All outward signs indicate that Neymar isn't quite there yet in terms of wanting a move so that he can be the man at a team of his own, but it wouldn't at all be crazy if his thinking on that has changed. Part of why soccer is so great is that players have so much power in deciding their futures. So while everything appears slanted in favor of Neymar staying at Barcelona this year—so much so that it would be a huge shock if PSG somehow did snatch him away—we won't know for certain until the window closes. Neymar should be looking out for what's best for Neymar, and in this sport, whatever and wherever he decides that is is probably what will happen.