A World Health Organization group has found that red meat and processed meats probably cause cancer. That basically implicates all the good stuff: ham, bacon, hot dogs, and delicious, delicious hamburgers. Your cookouts are about to get really sad.
But the International Agency for Research on Cancer (IARC) insists that there aren't really any maybes about it. Processed meats (bacon, hot dogs, sausages, jerky) and red meats (beef, pork, lamb, etc.) are strongly linked to cancer. NBC News says:
Overall, the Working Group classified consumption of processed meat as 'carcinogenic to humans' on the basis of sufficient evidence for colorectal cancer," the report reads.

"Additionally, a positive association with the consumption of processed meat was found for stomach cancer. The Working Group classified consumption of red meat as 'probably carcinogenic to humans'," it added.

"Consumption of red meat was also positively associated with pancreatic and with prostate cancer."
Just so we're clear here, the IARC report defines red meat as "mammalian muscle meat—for example, beef, veal, pork, lamb, mutton, horse, or goat meat—including minced or frozen meat." Processed meat, meanwhile, "refers to meat that has been transformed through salting, curing, fermentation, smoking, or other processes to enhance flavor or improve preservation." Goddammit!
NBC points out that this isn't exactly new information, as these types of meats have been linked to cancer before. This newest report is just a lot more emphatic about it, and although this is serious business, it's not a cause for total panic. Quick question, though: Is there anything left in this world that doesn't cause cancer?
G/O Media may get a commission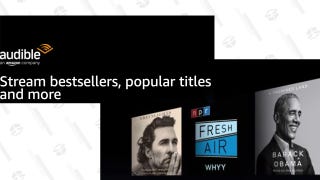 FREE
Audible Premium Plus 3-Month Free Trial
h/t NBC News
Image via Getty.