Scottie Pippen is outraged that so many websites would report that he's bankrupt and needs money. To prove it's not true, he's suing for millions of dollars.
As first reported by TMZ, Pippen filed suit in Illinois District Court yesterday, charging everyone from CNBC to the University of Tampa's student newspaper with defamation for reporting—falsely, he claims—that Pippen has blown through all of his NBA cash. The full suit is below, but let's just say it contains phrases like
Scottie never filed bankruptcy and indeed has a substantial net worth, which has not been less than approximately $40,000,000 in the last ten years.
It's sort of fascinating to see which outlets were named as defendants, because the bankruptcy claim has been all over the internet but only a select few come in for censure. A CBS Sports blog post gets the honor, not because it says that Pippen declared bankruptcy (it doesn't), but because it used a picture of him to illustrate a piece on money problem of former NBA players. The CNBC story named in the suit isn't even a real story: someone would have had to click through to the 14th slide on a "15 athletes who went bankrupt" slideshow. And while we can't evaluate the merits of this specific lawsuit, we'd love to see a precedent that slideshows for the express purpose of inflating pageviews are liable for similarly inflated damages.
Not mentioned in the suit: us. That's disappointing. Everyone from SportsReport360.com to InvestingAnswers.com gets accused of libel, so it's hard not to feel a little left out. Sure, maybe we never claimed that Pippen was bankrupt. But I'm sure we've besmirched him in some way or another over the years.
G/O Media may get a commission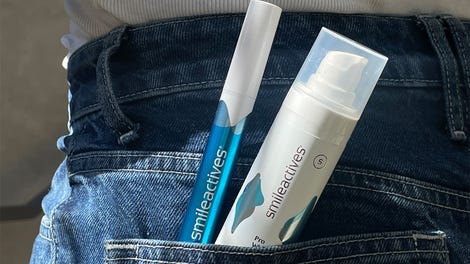 58% off
Whitening Powerhouse Pen & Gel Duo