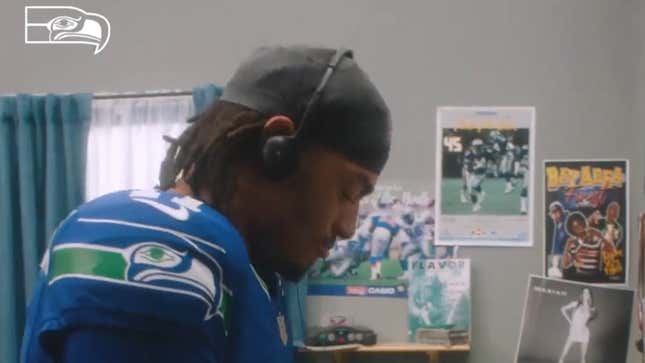 Unlike the orange popsicle colored uniforms in Tampa Bay, the Seattle Seahawks have a throwback jersey worthy of throwing back to. The Kingdome may be long gone, but the royal blue home jerseys have returned. Rookie Jaxon Smith-Njigba was featured in 90s inspired promo for the old jerseys, and there had better be footage of him trying to identify all of the items in the video.

How running an NFL team is like running a restaurant | Chef Emeril Lagasse
This former Ohio State star was born in 2002. The same way that I missed tight brightly colored leather jackets and acid-washed jeans, he missed Quicktime, and the grunge era. The relics in the bedroom of that video would be as relatable to a 21-year-old as artifacts from The Egyptian Museum. There is a clock radio on a table with an actual dial. I can't say that I have seen one of those outside of my grandparents' house since the turn of the millennium.
That massive, boxy, computer in the background, I'm not even sure if that thing has internet capabilities. It looks like a personal version of the computers from the computer lab in the 1990s. That hunk of junk is only good for floppy discs of typing drills and Oregon Trail.
Then there's the Walkman. I have owned one, and driven two cars that had tape players. I find it hard to believe that Smith-Njigba has ever listened to music on tape. He may never have even seen an actual cassette tape before. Someone please ask him if he has ever said the word "rewind" in his entire life.
A Walkman, by the time that he got to high school Ipods were long out of style. Kids his age certainly don't have a family album's worth of CDs with titles written in marker like "Party Mix 04," "New Hits #8," and "Slow Jamz." And they certainly haven't turned a cassette tape sideways to play music on a car stereo.
I wish I could have seen his face when he was first shown the Walkman with those small padded headphones, and then his eyebrows raise when the device was opened manually. He is actually of age to have been in a video, nine years ago, in which kids were shown walkmans and reacted as if they had seen aliens.
Great job though by Smith-Njigba and the Seahawks with the video. Besides the leaning tower of Eggos, the whole production gave off some very comfortable 1995 vibes. I can see my old clock radio now going off at 7 a.m. and then catching an episode of Arthur on the living room T.V. before school.
The Seahawks will wear the royal blue uniforms and silver helmets — that they never should have changed — for their Week 8 matchup against the Cleveland Browns. It's unfortunate that they are only doing it for one game, but it will be nice to reminisce on the Joey Galloway, and Cortez Kennedy era even if only for a moment.
Now excuse me while I go dig through my parents' basement for the old Walkman and CooleyHighHarmony tape.