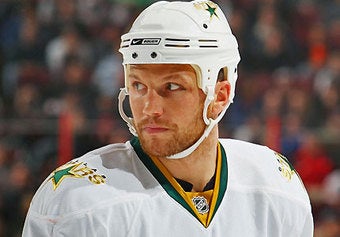 In case you hadn't heard, Sean Avery's suspension has been downgraded from "forever" to six games—including two already served—meaning Elisha Cuthbert's honor should be safe for the next two weeks or so. More hilarious than the fact that a hockey player has been suspended for dirty talk is that he now has to seek anger management help. Huh?
"Mr. Avery has expressed remorse for his recent comments and has sought a professional anger management evaluation," NHL commissioner Gary Bettman said in a league-issued statement. "I will require that he follow through with that process as a condition of his returning to the ice and that he complies with any and all recommendations."
Seriously? This guy has "Man of Leisure" printed on his business cards. Not to sound like Grumpy Old Man, but I remember when "unacceptable and antisocial behavior" was required to play on the fourth line. If anything, Avery should have been forced to play in that game against Calgary so that every goon on the Flames squad could deliver some "anger management evaluations" right there on the ice. Does the league even have goons anymore?
What happened, hockey? You used to be cool.
NHL HANDS AVERY A SIX-GAME SUSPENSION [TSN]