By all accounts, Ken Griffey Jr.'s return to Seattle has everyone in that rain-dampened vicinity in perpetual euphoria. But then we're reminded that not everyone there loved Junior the first time around.
Griffeymania has already firmly gripped the region; the Mariners sold 16,000 tickets on Thursday alone, and Griffey merchandise is jumping off of the shelves and into people's arms of its own accord. After a 102-loss baseball season, the Buzzsaw that is the Washington football Huskies, and the loss of both the SuperSonics and Holmgren's mustache, folks there are yearning for some Auld Lang Syne.
But here's Seattle resident and current Zucker Media Group VP Jimmy Shapiro checking in to remind us that there was another side to Griffey.
When I worked for KJR, the sports radio station in Seattle, we were always trying to get Griffey on the radio station, but to no avail. It never made sense that he wouldn't come on the radio station. There was nothing bad you could possibly say about Griffey as he was the best player in baseball. We just wanted to talk to the best athlete in the city and give the listeners a chance to hear from him. Griffey wasn't having that, but we had to keep on asking him to come on the station or we wouldn't be doing our jobs.
I'm not sure if it was 98 or 99, but it started to get real contentious. We kept asking him and he kept turning us down. So our Mariners' sound guy decided to record his response to the interview request. The first day he cussed out the sound guy. The next day he said, "I'll do an interview with KJR when you suck my big black motherf–kin cock." Sorry, tempting, but that didn't happen. We replayed his first day's response multiple times on the radio and the Mariners were furious. They threatened to pull all of our media credentials if we replayed another Griffey interview request response. Unfortunately, his fellatio request never made it to the airwaves.
G/O Media may get a commission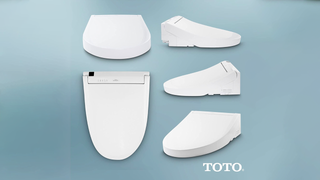 44% off
Toto Washlet Electronic Bidet Toilet Seat
Now Griffey is back and it will be interesting to see if he's lightened up and will do some interviews for KJR. I certainly hope so as the city is going crazy over him returning to the Mariners.
There are some other good interview clips in the same post at Sports Radio Interviews.com, including Chipper Jones' take on the Griffey-to-Braves situation on WXQI:
"I would rather he waste somebody else's time instead of ours. We could have been working on a deal for something else and been using our time more constructively."
Yes, unfortunately due to that they had to settle for Tom Glavine.
Settle Down Seattle, He's Not The Griffey That You Remember [Sports Radio Interviews]