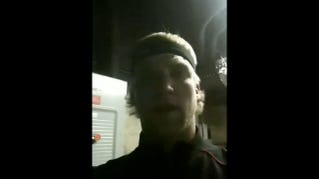 Because no one reads the newspaper, and SportsCenter's anchors are too perky for this early in the morning, Deadspin combs the best of the broadsheets and the blogosphere to bring you everything you need to know to start your day.
• The Blair James Project continues to be a head-shaking affair. [Houston Chronicle]
• Manny Pacquiao will not stand for these reckless PED allegations that will bring more attention and intrigue to his fight with Floyd Mayweather still scheduled for March. [Daily Telegraph]
• The Artist Formerly Known As Chad Johnson commences his silly taunting of the Gang Green: "I have one that is going to be so good," Ochocinco said. "Everybody listening? You know the guy in the stands with the fireman hat (Fireman Ed) that quiets the stadium? OK, I have my own fireman hat made, but it doesn't say Jets. It's a Bengals fireman hat. When I score, I'm going to sit on top of the goal post. ...If I don't use the goal post, I'll get on top of one of my linemen's shoulders...and then I'm going to quiet the stadium the same way he does." [NYDN]
• Just leave Eric Dickerson's 1987 Backyard BBQ on a loop on your computer for the rest of the day and you'll find yourself shuffling on the path to enlightenment. [You Been Blinded]
****
And good morning. It's New Year's Eve. Who's up for an evening of drunken self-auditing?