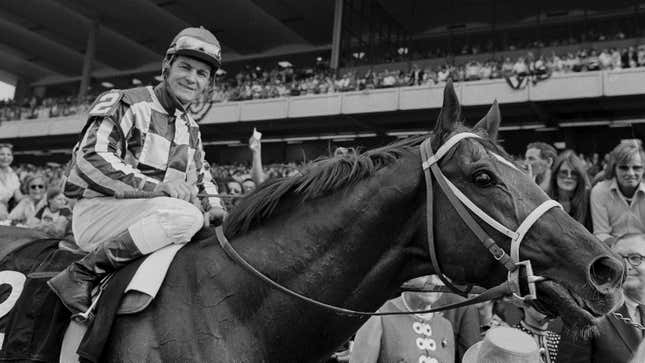 It's a conversation that'll lead to a fight over drinks and is a common one among sports fans. Who is the greatest of all time in their given sport? But which sport has the easiest GOAT to figure out isn't discussed nearly as much. As far as I'm concerned, there are two options: Hockey and horse racing. Wayne Gretzky vs. Secretariat in a grudge match between The Great One and the streak-breaker. My choice is the athlete with four legs. Secretariat was more dominant in horse racing than Gretzky on ice.
Who's the greater GOAT? Gretzky or Secretariat | Agree to Disagree
We're not separating genders here as three-year-old stallions and fillies are both eligible to compete in horse racing's Triple Crown. Katie Ledecky and Michael Phelps are two of Maryland's greatest exports and against their own gender, GOAT status is easily achieved. Put them head-to-head and it's a tough call and therefore not as clear who is the overall monarch of the pool. As far as contemporaries go for Secretariat on the race track, there's one: Man o' War, who did finish with a better winning percentage and ran in one more race than Secretariat. Man o' War's 20-1 record, compared to Secretariat's 16-3-1, looks impressive, but there's just one problem: Man o' War didn't win the Triple Crown. Without horse racing's most important race of every year on the resume, it's void. And in a sport as niche as horse racing, those transcendent moments need to pop off the page to be the GOAT. Secretariat's performance at the 1973 Belmont Stakes is as superhuman as any in sport and tops any individual game or season effort for Gretzky.
Gretzky has more contemporaries in hockey as well. Gordie Howe, Mario Lemieux, Alex Ovechkin, Dominik Hasek, and Bobby Orr all could have arguments to the throne. Yes, Gretzky would be the pick of any smart hockey fan, as Secretariat is a no-brainer for horse racing. We'd need to nitpick at Gretzky's impressive resume to debate GOATs in other sports and when truly putting the magnifying glass on The Great One, holes exist. He's a nine-time NHL MVP, including a streak of eight in a row from 1980-87. We'll never see that again. And his production will forever go unmatched due to the style of play of today's NHL. Gretzky wouldn't dominate at the same level in today's NHL. It'd look a lot like Connor McDavid, which is nothing to scoff at. But who is making the case for McDavid as the best hockey player we've ever seen this early in their career like people were for Gretzky? A reborn Secretariat looks exactly the same as the horse who still holds the fastest times in the Kentucky Derby, Preakness Stakes, and Belmont Stakes. It's seen as a major accomplishment when any other horse gets close to Secretariat's times.

Secretariat vs. Wayne Gretzky for GOAT supremacy
Who's the greater GOAT? Gretzky or Secretariat | Agree to Disagree
Who's the greater GOAT? Gretzky or Secretariat | Agree to Disagree
No one becomes a GOAT without help from teammates and Gretzky's comrades prop him up more than Secretariat. I know we're talking about a team sport against an individual discipline. So let me focus on jockey Ron Turcotte for a moment compared to Luc Robitaille, Mark Messier, Jari Kurri, Paul Coffey, and more. Turcotte was an accomplished jockey before Secretariat. He was aboard the winner of each Triple Crown race once before the 1973 Triple Crown, including two in 1972. And after Secretariat, he never won a Triple Crown race again. Gretzky is a four-time Stanley Cup champion, but didn't win one after 1988. His final 11 seasons led to zero championships. Where's that hole for Secretariat? Every big moment, the GOAT of horse racing stepped up. Gretzky couldn't win a Stanley Cup outside of Edmonton and Secretariat won the three most important horse races of every year at three different lengths in three different states. One GOAT was able to adjust to the circumstances around him and one wasn't despite any personal production. And that's the deciding factor.