Serena Williams won her sixth Wimbledon title Saturday, cruising past 21-year-old Garbine Muguruza in straight sets, 6-4, 6-4. The win gives Williams her 21st Grand Slam title, second all-time only to Steffi Graf's 22 in the Open era.
The championship was all but handed to Williams after the semifinals, when she dismantled oft-unworthy foil Maria Sharapova to set up a showdown with the No. 20 seed in Muguruza. Perhaps this made Serena a little too relaxed for her final match. Her serve was a little off, and it looks like she may have forgotten when it was championship point, much to the confusion of her supporters:
But you can do whatever the hell you want when you're arguably the most dominant tennis player ever. Williams's run is unprecedented. Her first Wimbledon title came in 2002, when she defeated sister Venus at the age of 20 to claim the world's No. 1 ranking. Thirteen years later, Williams is the oldest No. 1 ranked player in WTA history, and she shows no signs of slowing down. The Wimbledon win also means, for the first time in 12 years, Williams is the owner of all four Grand Slam titles, a ridiculous accomplishment in the sport at age 33.
Williams is near the top of her game, at the top of her sport, and dominating in a way that is unprecedented for someone this late in their career. At this point, it's hard to imagine her doing anything besides continuing to wreck fools who try standing in her way. Of course, we're closer to the end of Serena's career than to the beginning, which makes it extra special—even when Williams is still the runaway favorite–to watch her consistent brilliance on the court.
G/O Media may get a commission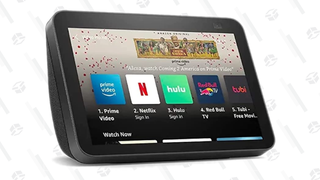 Enjoy it while you can.
Video: ESPN