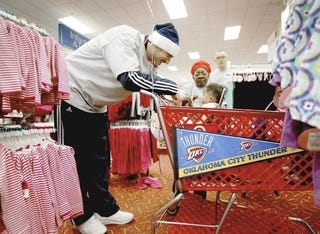 Because no one reads the newspaper, and SportsCenter's anchors are too perky for this early in the morning, Deadspin combs the best of the broadsheets and the blogosphere to bring you everything you need to know to start your day.
•John Wall continues to live up to the hype, scoring 25 in a win over UConn and leading Kentucky to a 9-0 record. Hope he liked playing at Madison Square Garden, because he'll be able to see it across the river from New Jersey next year.
•Promoters have nixed any chance of the Pacquiao-Mayweather fight going down at the New Cowboys Stadium. They didn't want Floyd's ego escaping through the hole in the roof after Manny deflates it.
•On the move to the Rangers: Mike Lowell, Rich Harden, Chris Ray. Among them, they could almost assemble a complete healthy human body.
•Who says the government isn't looking out for us? A House subcommittee passed a bill that would lead to a playoff system in college football. Now if only they make it so you don't have to be a scholarship athlete to afford college.
•Nenad Krstic helped out some local families with $1000 shopping sprees at Target. Which is ironic, because with his .750 FT percentage, I can't believe he found the Target.
•••••
Congrats to Stuart Schweigert on his first win in a few years, across multiple sports. It's Thursday: prepare your anus.