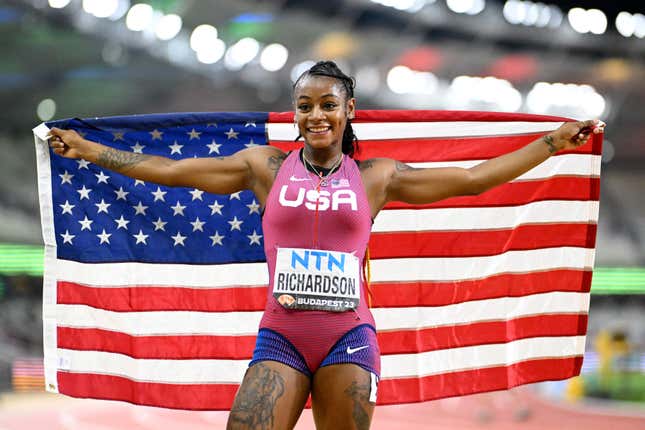 Sha'Carri Richardson was on her way to becoming a rock star after the U.S. Olympic Trials in 2021. With the COVID delay, the upcoming Olympics were lacking enthusiasm and good stories. Richardson was on her way to Tokyo with a novel, but was not able to go due to a positive cannabis test. She went on to take a Rocky Balboa-Clubber Lang I beating in major competitions. Now following a Rocky III style reset, in August 2023 she is the fastest woman in the world.
All 8 Rocky movies ranked | Rocky through Creed 2
What Rocky lost in the third movie was his edge. A man who had no expectations for his life — and no one else did either — achieved one of the greatest feats in the world. He became the heavyweight champion.

That underdog story was of course seized on by fans and corporate America. He became a star, and he went on to lose his tenacity. Without that trait, the face that was constructed in a makeup chair to sell products wasn't ready for a true championship-level opponent. Richardson hasn't reached the level of stardom in the first five minutes of that movie, but unlike Rocky, she was expected to get there someday.

She broke the NCAA record in the Women's 100m dash in a National Championship meet as a freshman. That is prodigy-level stuff. Richardson was UCLA Lew Alcindor — now known as Kareem Abdul-Jabbar — and Oklahoma Adrian Peterson. She ran a 10.75 at 19 years old in a championship race. There was every reason to believe Richardson to be the most likely athlete to break Florence Griffith-Joyner's 10.49 100m dash world record.

Richardson winning her Olympic trial final at 21 years old had her well on the way to legendary status. Then came the suspension for marijuana. It arrived during what had to be an emotionally brutal time, as she was dealing with the death of her birth mother. News that startled NBC Sports' Lewis Johnson when she told him about it, she had been informed of by a reporter.

Rocky is a creation for a motion picture. Richardson is a human being living as herself. I can't speak to any loss of tenacity, but she did lose like Rocky did to Clubber in that 2021 Prefontaine Classic and the 2022 U.S. Championship. In an individual sport, she got pounded in front of the whole world.

Just like Rocky, she shook off awful professional moments and came back ready to deliver a knockout performance. The eye of the tiger that Apollo Creed talked about in the movie, Richardson has it.

At Jamaica's Track and Field Championship in 2023, Shericka Jackson ran the fastest women's time in the world. Since that date, she has lost twice to Richardson. The first defeat was at the Diamond League Championships on July 16. Then in Budapest, Richardson ran down Elaine Thompson-Herah and Jackson to set a personal best and event record at 10.65.

Richardson has not had the opportunity to bask in victory for years like Rocky did in the third movie, but she was faced with a similar reality. She was defeated soundly as a superstar in front of the whole world. The American hero had to shake off what happened and come back new and improved.

She has been saying for a while now, "I'm not back, I'm better." That is what Rocky had to do in Rocky III, and Richardson has pulled it off in real life as a young woman. She returned to the ring after humbling defeats, and left it the undisputed champ.

Unlike Rocky, she is a phenom who likely has a long career of dominance ahead of her.