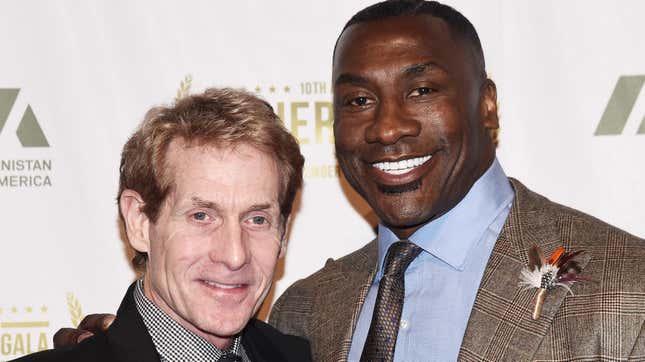 Fox Sports 1 analyst and NFL Hall of Famer Shannon Sharpe was trending all over the place this morning for his absence across from FOX's Undisputed with co-host Skip Bayless. It isn't clear at this moment why Sharpe skipped the show Tuesday morning, roughly 12 hours after Buffalo safety Damar Hamlin collapsed on the field during Monday Night's Bengals-Bills game. It could be an already scheduled day off to spend time with his family and first grandchild, which we learned of last week. It's also possible that Shannon's had enough of Skip's "schtick" after one of the most insensitive tweets Bayless has ever typed went out last night, just minutes after Hamlin was rushed to the hospital.

This morning, when Skip showed up in front of a national television audience minus Shannon, the internet exploded with speculation. Bayless didn't go into detail but mentioned his partner's absence and said he couldn't wait for his return tomorrow.
The most alarming part of the long-time journalist/shock jock's opening monologue was his apology and lack thereof. Skip began fighting back "emotion" while sighing deeply as he usually does, and apologized not for his tweet but for the fact that the show was going on as scheduled and he was going to talk sports today.
Anyone who followed Skip's career probably wasn't surprised at his non-apology. You might be outraged, as most are, especially on Twitter, over Bayless' callous attitude toward Hamlin's medical situation. The whole Skip Bayless schtick has gotten old, and maybe Shannon Sharpe is beginning to realize it.
Only a few weeks ago, Bayless and Sharpe got into what felt like a real-life heated back and forth after Skip took personal shots at Shannon during a debate about Tom Brady. That's the one place you can't go with Skip, slandering his beloved Brady, even when he's played like a man who should've stayed retired.
Skip Bayless cares about Skip Bayless, and that's it. He's the same guy he's always been, pushing buttons to get a reaction. It doesn't matter to him whether the response is positive or negative, which should be clear after his Hamlin tweet. Surely, we'll find out the reason for Sharpe's absence soon, but Bayless' time could be running out, or at least his on-air partnership with Sharpe.
We can say the same thing for Jenny Taft's patience in dealing with Skip's act as the moderator on Undisputed back in the summer of 2021. Bayless was on one of his usual tirades, this time about the shape of Dallas Cowboys head coach Mike McCarthy, and Taft had heard enough, prompting her to go off on Bayless. Like Sharpe's incident with Bayless, Taft shutting him down had been a long time coming, as he rarely even acknowledged her existence on the show.
Bayless has never cared about rubbing anyone the wrong way. Co-host, athlete, or other media members never mattered to Bayless, as long as he gets his point across. If he belittles someone along the way, so be it. Skip's name-calling of NBA stars, most notably Chris Bosh and Russell Westbrook, led to Jalen Rose roasting him with facts about his own playing "career" live on First Take.
So far, there hasn't been anything from Sharpe on why he wasn't on Undisputed this morning, but we'll likely find out the reason soon. If Shannon is back on Wednesday, as Skip stated, he may address not being in studio for Tuesday's show. Like most of Bayless' past stops, it feels as if he's tolerated, not liked by most that work with him. Allegedly, it was the same at most of his former places of employment. Whether it be at the national or local level. Skip has the kind of personality that makes you want to dropkick him. He's a strangely awkward little man who thinks only his opinion matters.