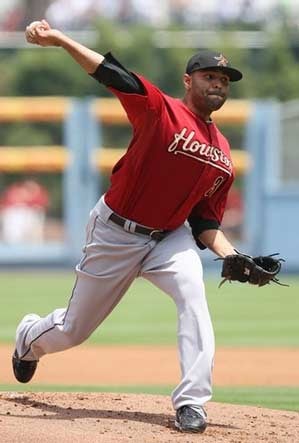 You know what baseball needs more of? Physical fistfights between general managers and players. Imagine the fisticuffs that would ensue between Jon Daniels and Milton Bradley. Jim Bowden and Elijah Dukes. Heavens, Theo Epstein and David Ortiz. We might buy a pay-per-view of that.
We had the closest thing to it when Astros soon-to-be-ex-pitcher Shawn Chacon attacked Houston general manager Ed Wade. The dispute seemed to be over a meeting that Chacon refused to attend in manager Cecil Cooper's office. Chacon was rather upfront about the "exchange."
"He started yelling and cussing," Chacon said of Wade. "I'm sitting there and I said to him very calmly, 'Ed, you need to stop yelling me. Then I stood up and said 'you better stop yelling at me.' I stood up. He continued and was basically yelling and stuff and was like, 'You need to (expletive) look in the mirror.' So at that point I lost my cool and I grabbed him by the neck and threw him to the ground. I jumped on top of him because at that point I wanted to beat his (butt). Words were exchanged."
Nice. You likely won't be seeing Chacon in an Astros jersey again, which seems odd; sure, if we punched our boss, we'd be out of a job ... but then again, Gawker Media doesn't have the pitching problems the Astros do.
A reader helpfully sends in Chacon's new baseball card.