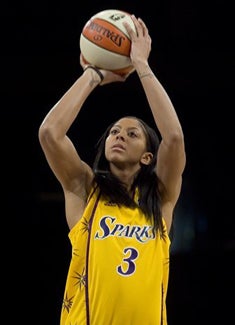 Candace Parker's WNBA debut went about as well as anyone could have hoped. The Tennessee product led her Los Angeles Sparks to a 99-94 win over the Phoenix Mercury, the league's defending champions. Parker scored 34 points, including some big baskets down the stretch, while amassing 12 rebounds and eight assists. Lisa Leslie added 17 and 12 in her return to the league after missing a season due to maternity leave. The WNBA: Where breast feeding happens.
Parker's effort set all sorts of records, including most points in a season opener, and most points by a player in a debut. The previous high for a rookie in her first game was set 11 years ago by Cynthia Cooper when she scored 25.
Holy shit, did I just write a WNBA post? Uhh...dick joke?