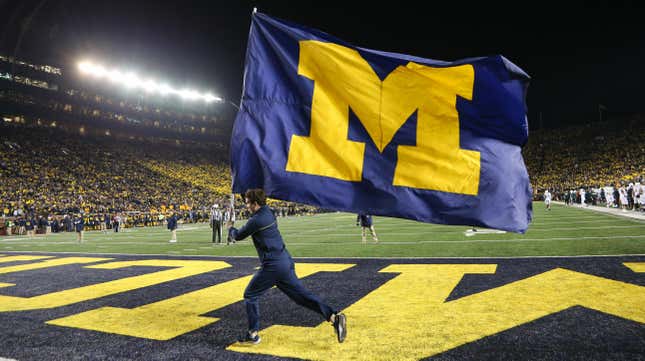 There's a distinct throughline between Michigan coaches Jim Harbaugh and Bo Schembechler. As a fifth-year senior, Harbaugh led Michigan to the 1987 Rose Bowl before getting drafted in the first round by the Chicago Bears. Harbaugh tried to strengthen that connection to yesteryear by hiring Bo's son, Glenn "Shemy" Schembechler to serve as the Wolverines' assistant director of scouting.

On Wednesday, Schembechler tweeted an exuberant announcement of his addition to Michigan's staff. By Saturday, he was gone amid controversy, and athletic director Warde Manuel released a statement denouncing Schembechler's views and his departure from the program.
"We are aware of some comments and likes on social media that have caused concern and pain for individuals in our community. Michigan Athletics is fully committed to a place where our coaches, staff and student-athletes feel welcome and where we fully support the University's and Athletic Department's commitment to diversity, equity and inclusion," the statement read.
The internet never forgets
Shemy fell victim to social media Darwinism when Internet sleuths uncovered a significant number of posts and likes of offensive posts. Social media is a digital X-Ray exposing what really drives individuals. Delve deep enough and you'll discover what lies beneath the surface. It didn't take too much work. As recently as earlier this year, Schembechler was liking posts that denigrated African-Americans, used African tribal imagery to mock House Minority Leader Hakeem Jeffries, and promoted posts that excused Jim Crow and slavery as character-building exercises. Over the course of three days, Schembechler attempted to clean up his feed by unliking over 1,000 tweets. Fortunately, screenshots exist and the internet has a litany of receipts.
The Wolverines could have saved themselves the embarrassment if they'd just reviewed his @Shemyscout Twitter page. Or they weren't interested in digging too far beneath the surface. That account has now been deleted.
The long-time NFL scout spent much of his career on the Las Vegas Raiders, Chicago Bears, and Kansas City Chiefs, but spent more than a decade with the Washington Redskins. That should have been the first clue. Anyone who spent that long within the cesspool of that organization is bound to be bad news. Schembechler isn't alone in his racist views of Black men, but employing a known bigot to recruit black athletes to play in Ann Arbor is an even tough sell to commits when he is a co-leader in the scouting and recruiting department.
This isn't the first blight on the Schembechler name
Shemy's apple fell pretty close to the tree though. Bo's football accolades were monumental to the Wolverines program's success, but he was also allegedly willing to turn a blind eye to heinous acts to win a few Big Ten titles and finish second to Woody Hayes. Matt Schembechler, the adopted son of the coach Michigan named its football headquarters after, is alleged to have been physically abused by his late father. Matt was also one of multiple individuals in the orbit of Michigab's program who also accused Bo Schembechler of covering up former U of M doctor Robert E. Anderson's sexual abuse.
Shemy's resignation is the second embarrassing incident involving a member of Harbaugh's staff this offseason. In January, Michigan fired co-offensive coordinator Matt Weiss in connection with a criminal investigation into computer access crimes that occurred at Schembechler Hall.
---
Follow DJ Dunson on Twitter: @cerebralsportex