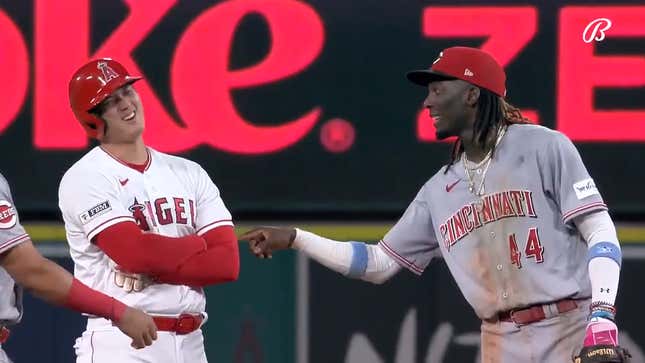 Most baseball players, and really most pro athletes, will tell you that they stopped being fans long ago. It is a job now, and any star on another team becomes an obstacle eventually. They'll tell you they respect other guys in the league, and that's probably true, but they don't see them as anything other than coworkers. They can't.
Is Shohei Ohtani the frontrunner for MLB MVP in 2023? | Agree to Disagree
But the facade will break down a lot of the time, and these guys have the best seat in the house and a unique perspective to see guys do the things that amaze us. And sometimes there's a player or two that is just too good, or just too sparkling, for their fellow professionals to treat as they would any other:
A recap of this conversation.
"I just wanted to make sure you were real, bud. There was a chance you weren't."
"Me? You see that fuckin' ball you hit with your ass going the wrong way? You don't think I'm real? What about you?"
Baseball should be fun, even for the guys actually playing it.
Lionel Messi does it again

Speaking of the best to ever do something, the Lionel Messi train kept rolling last night as Inter Miami escaped their US Open Cup semifinal on penalties, again. Messi-led teams that are definitely wonky getting through on penalties is probably the sport's leading theme the past year.
While MLS-agnostics have just been dismissing Messi's dismantling of the Leagues Cup as purely evidence of the manure-laden defenses Messi was facing, most others have been just pointing out that's what Messi does to everyone.
Last night, however, FC Cincinnati definitely hit pause on their motor functions to give away the equalizer in injury time:
Solid approach there, letting Messi have all the time he could possibly want to survey and pick out a cross, as well as not marking Leonardo Campana in any fashion nor trying to catch him offside. What exactly did they think was going to happen here? One can't help but think of Herve Renard again.
---
Follow Sam on Twitter @Felsgate and on Bluesky @Felsgate.bsky.social