Earlier today, celebrated thinkpiece writer Hamilton Nolan made some sounds over on middling Deadspin aggregator Gawker, claiming that "it is still fine for men to wear shorts." Young Nolan is correct, as things go.
This is not a screed against shorts. Indeed, shorts are "fine." Neither is this an appeal for men to stop wearing shorts. This is America, and I would never pretend to give a fuck about your sartorial choices. This is because I am cool.
I am cool, I suspect objectively so. I have been deemed on various occasions "the coolest." I also don't wear shorts, ever, for any reason, unless I am freeballing in my apartment or engaging in physical competition with people I respect. (More on this exception anon.)
Few clothes have proven to possess magical qualities, and so it would be folly to argue that shorts alone have the power to make people uncool. I would argue, however, that whether a man deigns to wear shorts when not engaging in sport or private reflection is an immediate, bulletproof indicator of whether that man is cool.
G/O Media may get a commission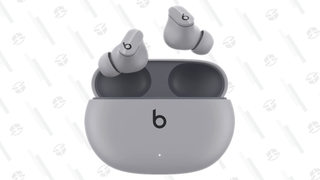 That's because shorts are the garb of children and jamokes. When a man wears shorts to work, or to the party, or to the bar, or to the movies, or to dinner, it means that he either has never learned or has never bothered to care about the importance of looking presentable in public, of being taken seriously, of appearing to give a damn. In my experience, these people are almost always also uncool.
Now, people who are uncool often argue for the utility of shorts, and make all kinds of sounds about how wearing shorts is a matter of necessity. But we live in a miraculous time in history, in which human ingenuity has solved many everyday problems our ancestors encountered. I live in New York City; presently, it's 91 degrees outside. Inside Gawker Media's SoHo office, however, it's 76 degrees. The humidity, which can be hellish at times outside, is nonexistent in here. I'm neither especially hot nor cold. I do not need shorts. In fact, it is likely that no one in Gawker Media's SoHo office will ever need to wear shorts to work, because if we needed to do so, we would elect to work from home. And as someone who always wears and has always worn jeans—even when living in notoriously warm places like Dallas and Miami—I can say that 91 degrees, or 101, even, isn't that bad. You're fine. You're fine.
Fatherhood often precedes the downfall of men's coolness, and claims that it's OK to wear shorts. I assume this is partly because raising and nurturing a person or people who cannot immediately do so for themselves is time-consuming, and exhausting, and stressful, and leads to just not giving a fuck—to grabbing a pair of Old Navy cargo shorts off the floor, saying, "Good enough," and moving on to the hard work of teaching someone how to be a person.
To illustrate this point, I can only point to Jay Z, not long ago the very coolest man in this world or the next. At one point, though, he conspired with Beyoncé to spawn, and on Jan. 7, 2012, the couple bestowed upon us the gift of her majesty Blue Ivy Carter.
This is Jay Z, sometime after.
There are like 13 guys currently on Deadspin's staff. Of that 13, five are fathers: Marchman, Burneko, McKenna, Harvilla, and Problematic Drew. I like and love them all. I count them as colleagues and friends. I think they are awesome, and brilliant, and funny, and even handsome in their own ways. But they are not, in the strictest sense, cool. They all, like Jay Z, wear shorts.
Kyle Wagner is one of my closest friends at Gawker Media. He basically got me the gig here, and he is hilarious and charming, and is currently working on this, which will be the coolest thing our website has ever produced. With some luck, Kyle's work may save lives.
But Kyle himself is not particularly cool. And this, as it happens, is what he is wearing today:
A few of months ago, I was on this kick when I would get drunk and race other Gawker Media staffers. Save for one no-contest, I demolished everyone. Gawker dot com, always a step or two behind, decided to get in on the fun, and one of Max Read's first acts as editor-in-chief of the site was to broker a race between Gawker news editor Taylor Berman and me.
I didn't know Taylor at the time. I didn't respect him as an athletic threat. When we spoke, I said something like, "You better bring your running shoes."
He did. On the day of the race, he brought his running shoes, and changed into gym shorts and a fresh T-shirt. I elected to race in my hoodie, sagging jeans, and glasses. I left my shoes untied. This is what happened next:
He won, surprising your boy at the end of the race. Taylor is gracious, and a refreshingly competitive face in this haven of liberal arts graduates, and he has agreed to grant me a rematch sometime in the near future. When we race, I will be wearing jeans. Taylor will likely don shorts. Taylor, however, is not all that cool.
Nolan's article today led to the conversation that led to this article, and in that conversation, much of Deadspin proclaimed whether they were for shorts or against. All of the dads, Wagner, Samer Kalaf, data viz fellow Ross Something, and video/assignment editor Tim Burke were for shorts. Billy Haisley, Tom Ley, Barry Petchesky, Tommy Craggs, and I were against. We five are objectively cool, and objectively cooler than the rest of the staff. More important, our stance against shorts is not what makes us cool. We've never talked about shorts before this morning. But we were cool yesterday, and that is why we are cool now, and that is why none of us are wearing shorts.
Photo Credit: Getty