Sports Illustrated experimented with just what you can put on a supermarket rack without a plastic cover way back in 2015 when the cover of their swimsuit issue featured model Hannah Davis (now Jeter) pulling her bikini bottoms down to her vulva, but have you checked in lately? At this point, the SI swimsuit Twitter and Facebook accounts are just porn, porn, porny porn with creepy tweets and captions that use a bunch of emojis.

(One thought: If the swimsuit garbage is meant to cater to horny dads who haven't heard about Pornhub, why use terms like "SLAY" that definitely cater to a very different audience?)
Anyway, let's look at some porn together:
This one at least features half an actual swimsuit:
G/O Media may get a commission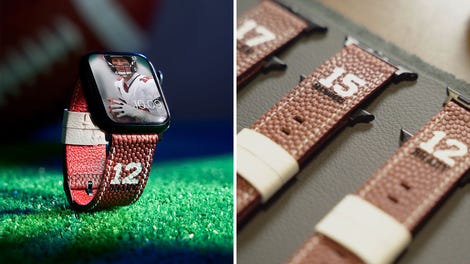 Official NFL PRODUCTS
Official NFL Apple Watch Bands
This is arty Tumblr porn:
This one uses the splooge emoji:

There's a video that goes along with this one:

The magazine appears to be really into vajazzling these days, but again there is no actual swimsuit in this swimsuit photo:
There's nothing new about the swimsuit issue (and its hyperactive social media presence) featuring mostly-nude women. At this point, though, it looks like "mostly-nude" will just be stripped of the hyphen going forward.

The swimsuit issue outsells the average SI issue by some vast amount, supporting the whole financially-fraught institution. (No one there likes admitting this. When we once referred to the annual issue as Boobs: The Great Subsidy, a number of SI people registered their discontent.) Yes, the models sign off on presumably ghostwritten essays about how they feel empowered by being naked on the beach—good for them!—but the point seems to largely be to give SI companymen and -women a nice talking point to defend their creep-o product. (When we get pissy, defensive letters from otherwise smart employees, they invariably bring up the empowerment.)
I don't have a new argument here, though the fact that saying a sports magazine's reliance on the objectification of women is depressing and gross is a stale point doesn't make it an untrue one, nor one that shouldn't be made often.
Anyway, if you're horny from these nudes, please purchase a subscription to Sports Illustrated. Save the print journalism industry one boner at a time.