The NHL Closer is written by Greg Wyshynski, of The FanHouse and The Fourth Period. He is also the author of Glow Pucks And 10-Cent Beer.
Eva Construction. Like all hockey writers, I get most of my good gossip from one source: "Sports Illustrated for Kids." Sidney Crosby, who's been on more magazine covers recently than a harried Britney Spears rushing into family court with giant sunglasses and a flask of Cuervo, is featured in the February issue of SI Kids, listing his favorite things in life for the dedicated readership; including his favorite actor (Denzel) and actress: the handsome Eva Mendes. Since she can't act ("Ghost Rider" ... seriously?), I think it's safe to assume Sidney is simply jonesing for an incredibly attractive and quite famous woman - it ain't the first time her name's come up. Wayne had his Janet, Fedorov had his Kournikova ...hell, even Comrie has his Duff. So how do we get these knuckleheads together for the NHL's next super couple? And then, for the betterment of hockey, force them to breed...
We simply can't wait to see if St. Louis's Brad Boyes ever gets around to hooking up with Elizabeth Hurley. Crosby is on the cusp of serious mainstream crossover appeal (thanks, Gatorade and Reebok). It's time to fix him up with a babe comely enough that I'd be willing to hang a PETA poster in my rec room; get him to the premiere of lousy movies and her to bite her lip nervously from the owner's box during playoff games. Sure, Sidney's 20 and Mendes will be 34 this year: très scandaleux! Do you know how old Carol Alt was when she hooked up with Alexei Yashin? Sixty-one. Look it up. On second thought, please don't.
G/O Media may get a commission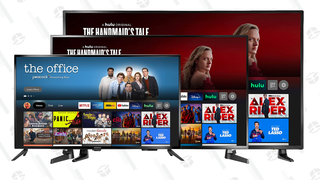 Up to 44% off
Prime Early Access - Insignia Fire TVs
I don't care if Mendes is in a relationship. I don't care if Sidney has a girlfriend either, because it'll just get in the way of his giving Eva Mendes a Men's Fitness cover shot on her chin. All I know is that if these two get together and hit it off, we could have a hockey Messiah in about 19 years: A beautiful Cuban-American-Canadian kid that the ladies would love, who also has incredible puck instincts and Gretzky-like sonar. (Get to work on that Photoshop, Pensblog.) The kind of boundary-busting marketing sensation that gets Republicans all giddy about George P. Bush running for office one day. Think of the possibilities: Along with NBC, ESPN, ESPN 2, The Ocho, Versus and HDNet Telemundo could broadcast a few Stanley Cup Finals games, too. Even Bettman couldn't screw up marketing Crosby/Mendes spawn.
By the way, that photo on the SI Kids cover is how the League preserved Sidney during the lockout before he was given to Mario.
Aboot Last Night. Parity, thy name is the Atlantic Division. Isles beat the Devils for the fifth time this season, the Flyers beat the Panthers and the Rangers topped the Sabres, closing the gap between first and last place in the division to six points. And while his team has gone winless in 10 games, Buffalo's Lindy Ruff seems more concerned with trying to get Brendan Shanahan suspended. And while Minnesota should be worried about goalie Josh Harding's groin injury after a 3-2 shootout loss to Calgary, it should be more worried that 26-year-old Aaron Voros took a Tyson-like uppercut from a 36-year-old Owen Nolan last night:
Puck Headlines
* The Toronto media passes around the crack pipe one more time and comes up with the latest Leafs panacea: Pat Quinn. [The Toronto Sun.]
* Interchangeable Parts makes a "Stella" reference and gives the Devils new mustaches: "Jamie Langenbrunner - The Pancho Villa, as 'fuck this shit' a mustache as you're likely to find." [ Interchangeable Parts]
* Dallas could move into first place with a win over San Jose tonight. Or it could miss the playoffs entirely. One of the two. [<a href="http://www.dallasnews.com/sharedcontent/dws/spt/hockey/stars/stories/11708dnspostarsnewsletter.1c471ba.html" Dallas Morning News]
* While blatant self-pimping is frowned upon here (*cough* buyleitch'sbook *cough*), I must point you to my coverage of Chris Pronger's interview with Jim Rome yesterday in which many listeners thought he accused bitter Oilers fans of breaking into his house, stealing his old furniture and burning his child's crib. Turns out that just like every episode of "Three's Company," it was all just a big misunderstanding. And that Pronger is still a contentious shit-for-brains. [FanHouse]
* McFarlane Toys announced its latest NHL dolls action figures. [Spawn.com]
* Mirtle reveals his latest bit of analytical genius: The hottest 30 players over the past 30 days. Somehow that dreamy Lecavalier didn't make the cut. [Mirtle]
* Finally, just as it seemed like ESPN was making nice with hockey, it unleashes Jemele Hill on Wayne Gretzky. [ESPN]