The Post-Gazette's Seth Rorabaugh noticed that Sidney Crosby looked a little different after today's morning skate:
Crosby missed yesterday's practice with some unnamed illness. Totally coincidentally, there's a big outbreak of mumps coursing through the NHL right now. Got guys sitting out left and right for a disease you probably last thought about while playing Oregon Trail.
Now, I am not a doctor. I blog. But Sidney Crosby' face is huge. You know who else's face is huge? Devils defenseman Adam Larsson.
You know what Adam Larsson has? The mumps. Check and mate, Crosby's immune system.
G/O Media may get a commission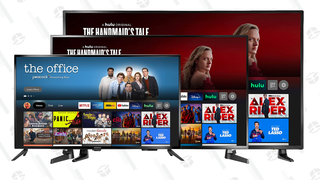 Up to 44% off
Prime Early Access - Insignia Fire TVs
Unless Crosby is hoarding food in his cheek pouches for winter, or lost a bet and has to do today's interviews with a softball in his mouth, or that's not actually Sidney Crosby but some weird Crosby-Kessel genetic hybrid horror bred to wreck the NHL's shit, something is seriously wrong with Sidney Crosby's face and glands.
Anyway, don't share any malteds with the NHL players in your life. They're all diseased.
Update, 4:06 p.m.: The Penguins have announced that Crosby will sit out tonight's and tomorrow's games. Their statement says it's a precautionary measure, but it also says "medical specialists made the recommendation after further test results came back today."