Last week, I said that the current number of breweries in the United States—we're up to a bit more than 3,000—is unsustainable, and I was probably wrong. As long as these fledgling operations keep a modest focus on their home markets, there's no reason we can't have a German-style system that supports nano breweries all over the place. That would be awesome.
But if regionalism is one of the best things about the modern American beerscape, it does come with one big drawback: Distribution limitations make it hard for us nationally focused beer loudmouths to actually know what the fuck we're talking about. It's tough to provide a credible overview of a style if you don't have access to Bell's and Cigar City and Three Floyds and so many other greats that don't ship to your state.
This is what makes Sierra Nevada's Beer Camp project so exciting for dedicated beer appreciators and bloviators. The mixed 12-pack of beers, produced in conjunction with a dozen different breweries, allows drinkers in every state to sample the wares of otherwise inaccessible operations.
This year's magic box included offerings from seven new-to-me breweries. This means that if I was an expert before (I wasn't!), now I'm a super-expert (still just another blowhard!). Anyway, I drank them and ranked them.
12. Three Floyds Chico King Pale Ale (6.5 percent ABV). The Munster, Ind., brewers of the acclaimed Alpha King and Zombie Dust pale ales drew whichever straw tapped them to make the style for which both they and Sierra Nevada are famous. I figured this would be the long straw, but upon reflection, maybe my expectations were just too high for what seemed like a perfect marriage—maybe this beer was set up to fail. It smelled properly hoppy, with good whiffs of both fruit and pine, but it tasted very malty, almost chocolatey, with just a quick, sharp bitterness on the back end.
G/O Media may get a commission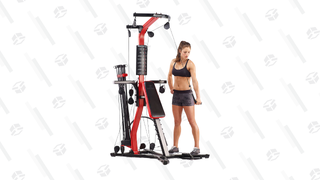 31% Off
Bowflex PR3000 Home Gym
11. Firestone Walker Torpedo Hoppy Pilsner (5.2 percent). What the shit happened here?! I love pilsner, and everyone loves Firestone Walker, so this could have been another case of unreasonably high expectations. This is a pretty good, run-of-the-mill lager that would have finished somewhere in the middle of the Drunkspin pilsner pack. A bit of flowery fruit from the New Zealand hops is the only thing that differentiates it from a straight Czech pils; it strikes me as less hoppy than Firestone Walker's regular Pivo Pils.
10. Victory Alt Route Altbier (6.6 percent). This fairly straightforward altbier has a ruby complexion and a strong dried fruit character undercut by a porky nose that's almost smoky but mostly bologna-like. It's chewy, sweet, and pleasant.
9. Ninkasi Double Latte Milk Stout with Coffee and Lactose (7.6 percent). This is brewed with Stumptown coffee, ooh la la. The milk sugar provides a nice counterweight that tames what could otherwise have been a brutally bitter 7.6-percent stout. The finish is still wicked dry and surprisingly short, but this is a very respectable version of a style I typically don't care for.
8. Allagash Myron's Walk Belgian Pale Ale (5.3 percent). Allagash is one of my favorite breweries, and this beer is a showcase for their classic Belgian yeast character. It smells like banana and light coriander, and it's very easy to drink until the discordantly dry finish.
7. Oskar Blues CANfusion Rye Bock (7.2 percent). I was skeptical of this one, because throwing a ton of hops on top of a traditionally malty style often results in a muddled mess of a beer, but the hops are fairly gentle, with very little bitterness and just a bit of citrus from a late addition of Australian Ella. The peppery rye lends just enough balance to the predominantly fruity malt flavors.
6. Bell's Maillard's Odyssey Imperial Dark Ale (8.5 percent). Smells like coffee sweetened with molasses and that high-end honey that doesn't come from a squeeze bear. It's a little too sweet at first, but since it's a slow-sipper at 8.5 percent, you have a chance to settle in after the sugar shock, at which point it becomes a really nice beer with strong roasted malt character to balance the sweetness.
5. Ballast Point Electric Ray India Pale Lager (8.5 percent). This starts with a slightly off-putting soapy hop impression, but the predominant characteristics throughout are liveliness and freshness. Electric Ray tastes like it was brewed 10 minutes into the future. It's super refreshing, with an unusual blast of spicy, grapefruit-y hops. This is a very good—if atypical—rendition of a controversial style, and it's a sneaky 8.5 percent ABV.
4. Asheville Brewers Alliance Tater Ridge Scottish Ale With Sweet Potatoes (7 percent). This wasn't nearly as odd as anticipated; it's really no sweeter than you'd expect from a Scotch ale. Tater Ridge is effervescent and clean, with very little hops getting in the way of the pleasant cola taste.
3. Cigar City Tropical Maibock (7.7 percent). This interesting hybrid of a German style with warm-weather hops is almost outlandishly fruity, with the mango and guava mentioned on the can shining through (passion fruit is also listed, but I don't really know what that is). This undergoes quite a transformation from nose to tail, mellowing into a more typical bock with time once the tropical hops blow over. I love this beer.
2. New Glarus There and Back English-Style Bitter (5.6 percent). This has a nice tawny copper color, and a strong nose suggesting caramel and marmalade with some grassy hops. There's a pronounced dry caramel-vanilla taste, with a slight grape-y touch that evokes the world's finest cream soda. This excellent beer tastes like what might happen if a high-born bitter were aged in a cognac cask for 15 minutes.
1. Russian River Yvan the Great Belgian-Style Blond (6.3 percent) I'm biased toward Belgian-style beers, and this one's outstanding. It opens with a spicy, bubblegum nose (no banana here) before turning simultaneously juicy and dry, with a bracing finish that puts the relatively high hop dosage to responsible use.
---
Will Gordon loves life and tolerates dissent. He lives in Cambridge, Mass., and has visited all of the other New England states, including, come to think of it, Vermont. Find him on Twitter@WillGordonAgain.
The Concourse is Deadspin's home for culture/food/whatever coverage. Follow us on Twitter:@DSconcourse.