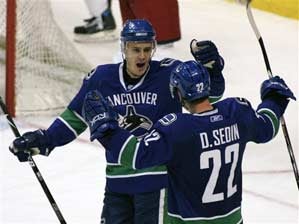 It's the NHL Closer. We pass the mic to the kids at Orland Kurtenblog. Their NHL Closer is written by Canadians for Americans.
Maybe we will get some Shrimp Poppers, or Extreme Fajitas. For those who didn't know, this is our last day as NHL Closers here at Initech Deadspin. Mic duties will be passed as the Bobs continue to downsize to another set of bloggers; we'd like to thank Lumbergh Leitch for the opportunity. In our continuing effort to burn bridges keep it real, we're doing a special Closer - shots of Maker's Mark for every tpyo (bam! One right there) and writing drunk. Very drunk. I am drunk at the moment, in fact. Now let's hit up Chotchke's for some Mojitos.
Bingo Bango Bongo, His Name Is Roberto Luongo.The Closer cannot take credit for that snappy headline - it comes courtesy of lovable (and possibly senile) Canucks color man Tom Larschied. But it fits given the circumstances - Robby Loo registered his third consecutive shutout last night as Vancouver beat Columbus 2-0. Luongo hasn't allowed a goal in 193 minutes and 59 seconds, a Canucks franchise record. He also should've won the Vezina last year, but we're not gonna bring up old shit, yo.
Ryan Hollweg will rip your face off. Sadly, this is subhead more literal that figurative. Hollweg was accused of trying to tear 15 stitches out of Radek Martinek's face during a 4-2 Rangers win over the Isles. Martinek received the sew job Wednesday night after being cut by a skate blade during the Islanders' win over Ottawa. Isles coach Ted Nolan offered this gem of a response to the allegations: "When a guy like Hollweg tries to scratch an open cut on someone's face, that's not professional." Captain Obvious then pointed out that water is wet, you shouldn't drink poison because you might die, and that he was going home to play a computer game. On his computer.
Goals, goals and more goals. Eleven of 'em were scored as Nashville beat Ottawa 6-5 at the Corel Center. JP Dumont registered four points for the Predators, who sent the Sens to their fifth consecutive loss. NHL Closer favorite Martin Erat scored the game-winner with 22 seconds left, and celebrated by rummaging through discarded pizza boxes for cheese.
Things in Calgary are, how you say, not so good? We'd be remiss to not close out with the following - Iron Mike Keenan's team is three games under .500 and just two points out of the Western Conference basement. A 4-1 loss to Anaheim sent the Flames backwards, not forwards, downwards, not upwards and twirling, always twirling.