Sign 1: A players-only meeting. What goes on at these things? Is actually strategy discussed, or is it just a lot of "we should probably play better?" Regardless of motive, the Eagles responded to an embarrassing loss with a meeting at their practice complex on Wednesday. CSN Philly reports that Michael Vick, Trent Cole, Jeremy Maclin, Cullen Jenkins, DeMeco Ryans, Dominique Rodgers-Cromartie and Jason Avant were among the players who spoke.
Players-only meeting only happen on teams that A) have hit rock bottom or B) have zero faith in the coaching staff to right the ship. Usually both.
Sign 2: Your players are actively feuding with fans. On Tuesday, Jason Babin literally tweeted out the dictionary definition of "loyalty." He clarified yesterday, saying he was upset with the comments of some fans toward the end of Sunday's blowout loss to Atlanta.
"Some of the most vile things I've ever heard," Babin called the chants. "Talking about people's wives and kids and chanting them. I just thought there's no place for that in the NFL."
Sign 3: Your players decide they're playing for their coach's job. Babin noted that many of the chants he heard were directed at Andy Reid, who could finally be given the ax, after about eight years of barely dodging it. The impending mercy killing has become so obvious, the Eagles can't help but address it.
"We love our coach," [Brent] Celek said. "We don't want to see anything happen to him. We want to play well for him. Guys want to play well for him, play well for their own jobs and play well to win football games. That's our goal, to win football games."
G/O Media may get a commission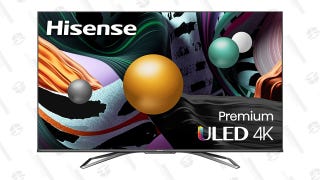 Save $350
Hisense ULED 65" Android 4K HDR Smart TV
Somehow, Reid was about to outlast Joe Banner, when we always assumed the two would be out in the same housecleaning. Now it's looking more like Reid and Mike Vick will go down together.
Sign 4: Your coach gives the quarterback a public vote of confidence. Despite calls for rookie Nick Foles (main selling point: he's not Michael Vick), Reid is sticking with his starter. But more ominously for Vick, Reid isn't simply keeping him at QB-he's publicly announcing that he's keeping him at QB. This is a kiss of death.
"Michael is, was and will continue to be our quarterback. This is not a week-to-week thing."
Fortunately for lovers of drama and schadenfreude, Philly's next game is the Monday nighter. A national TV audience gets to see what most expect to be Vick's last chance at keeping the starting job. This is the last requirement for a season meltdown: it must take place under the lights, in front of God and America.
Of course you know what's going to happen. The Eagles are playing New Orleans's dumpster fire of a defense, so Vick will throw for 300 yards and four scores, Philly will claw its way back to .500, and no changes will be made for months. Which would be the biggest disaster of all.