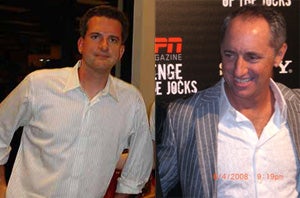 Surprising announcement from Bill Simmons during his WEEI radio interview this morning: He'll have Rick Reilly on his podcast "soon." He then goes on to describe their relationship at the WWL. Aw, cute.
It was toward the end of the 24-minute segment on the Dennis and Callahan Show on WEEI, just after Simmons had made his seventh movie-or-TV reference (he compared Doc Rivers to Michael Douglas in Falling Down). That's not a record, in case you're wondering. Then, this happened:
Dennis, or Callahan: "He's afraid every time he comes on we're going to ask about Rick Reilly. Do you have any questions you want to ask him about Rick Reilly?"
Simmons: "Oh stop it."
Dennis, or Callahan: "You get ..."
Simmons: "No, he's a colleague. I'm going to have him on the podcast soon."
Dennis, or Callahan: "Do you guys talk? Do you have desks next to each other, do you have your little cubicle next to his?"
Simmons: "We exchange story ideas all the time."
Dennis, or Callahan: "Was Mt. Rushmore one of your ideas?" (laughter)
Simmons: "I was trying to finish the basketball book, so I've had my head in the sand about Mt. Rushmore."
Meanwhile, the great Rick Reilly Celebrity Golf Experiment appears to be over; Reilly's name is not on the list of participants for the 2009 American Century Championship at Lake Tahoe. However, among newcomers this year will be Matt Cassell and Chuck Liddell! Lidell for Reilly? That's a pretty decent trade.
Player Acceptance List [American Century Championship]
The Sports Guy Bill Simmons [WEEI Radio]