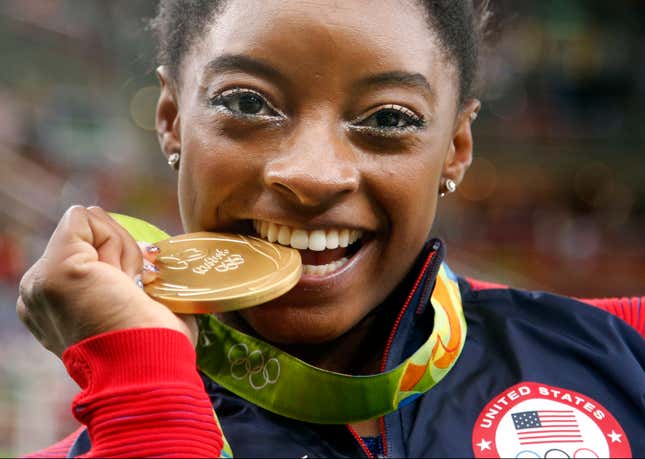 The GOAT is back. The best to ever appear on the floor, beam, vault, and uneven bars is returning to competition after nearly two years away from gymnastics. Simone Biles last competed at the 2020 Summer Olympics, which was of course delayed a year because of the pandemic. Her return to the sport in the U.S. Classic on Aug. 5 is heroic, as the now-26-year-old Biles has accomplished nearly everything one could dream of in gymnastics, including seven Olympic medals and 19 World Championship victories. Her donning the leotard publicly isn't about adding to her crammed trophy case. It should be celebrated due to how she left the mainstream eye in Tokyo, and she's still persevering.
How running an NFL team is like running a restaurant | Chef Emeril Lagasse
After winning four gold medals and a bronze at the 2016 Olympics — and there are only six women's medal presentations for Olympic gymnastics — the pressure on Biles was immense heading into her second Olympic games five years later. No one dominates the sport like she did, or maybe any sport for that matter. And Biles is still human. The pressure combined with a perplexing case of the "twisties" — where gymnasts lose a sense of their location midair doing flips and tumbles, and at Biles' skill level, there are more turns and rotations than anyone, caused her to withdraw from the team competition and the all-around discipline, both of which she won gold medals for in Rio. Biles returned for the balance team competition, earning a bronze medal, but the attention surrounding her decision to withdraw for physical and mental health reasons overwhelmed the accomplishment.

Athletes being open about mental health struggles was nothing new, but in Biles' case, sidelining herself moments before the team competition began, at the peak of her career and in her sport's premier showcase with nothing close to second-most prestigious, was unheard of. And let's be frank, if Biles' "twisties" were as disorienting as she says, one wrong landing could've led to serious injury or worse. Her age combined with being a successful Black woman in sport gained Biles tremendous support, and per usual with anything that makes people not involved uncomfortable, some horrible takes surfaced. 

What's Biles been up to since Tokyo? Frankly, it's none of our damn business. Snippets exist from social media, including her engagement to Green Bay Packers safety Jonathan Owens in 2022 and the couple's marriage earlier this year. What isn't on her Instagram, with 6.8 million followers, is a whole lot of gymnastics. You can bet she's been training her butt off in the gym because her grand return is in order in a little more than a month. The U.S. Classic will be one of many precursors for what the American gymnastics team will look like at the 2024 Summer Olympics. It'll be only the second Olympiad where there are four spots available for each country. Suni Lee, Jordan Chiles, and others are also looking for a spot on the plane to Paris. Biles giving gymnastics another go deserves props all by itself.