Washington's season has just about reached the point where the fans are turning on each other. The pro- and anti-Griffin sects are at war. Blood is being spilled over which Shanahan to dump, or both. The Kirk Cousins fifth column waits in the wings. Everyone hates Dan Snyder. You'd think if anything could bring about a temporary détente, it'd be focusing frustrations on the Cowboys. But alas.
D.C. Sports Bog has the tale of one Redskins fan who spotted a Jeep with a Cowboys decal and a vanity plate reading "F RG3." Rather than just laugh at the sad person who needs to express their feelings on current NFL players via their car, Andy Boothe alerted the Virginia DMV. And rather than shoot themselves in the face upon realizing their job is to operate the Virginia DMV's Twitter account, the anonymous public servant promised to look into it.
Once the Post ran with the story, Boothe started catching shit on Twitter. He's retweeting his favorites right now, but a search for his username turns up pages upon pages of people complaining about his snitching. But here's the funny thing—some of the angry folks are self-identified Redskins fans. It seems the natural human instinct against tattling—and the fact that a not-insignificant portion of the fan base is thinking well, the plate makes a good point—overcomes even NFC East vitriol.
G/O Media may get a commission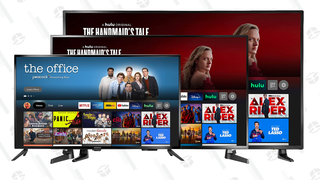 Up to 44% off
Prime Early Access - Insignia Fire TVs
Update: In the interest of equal time, here's Andy Boothe's vanity plate: