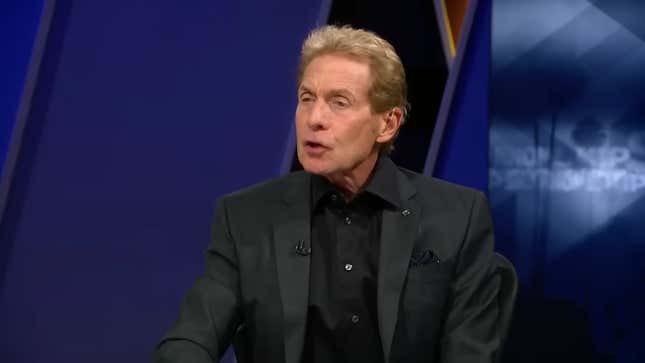 The takes don't get created by themselves, so I understand that it takes a lot for Skip Bayless to have enough of them to fill up a two-hour television program. However, speculating on how someone's personal life is affecting their play is usually a bridge too far. That goes double when it's information that the media is keeping to itself, but Bayless thought it proper to take some news about Jimmy Butler to air on Monday.

Jemele Hill's inspirations during her sports journalism career
Apparently, Butler is having some issues in his personal life. Issues that the public did not know about before Bayless revealed them. On the Miami-based program The Dan Le Batard Show with Stugotz, Michael Ryan-Ruiz said that information has been known in local media for "some time," but was kept unreported out of respect to Butler. That is until Bayless opined for 12 minutes about the Miami Heat's 111-108 Game 2 victory. He was attempting to be sympathetic to Butler, but instead violated basic decency.
Classic Schmosby Skip Bayless
Bayless has been no stranger to these types of taboos throughout his career in sports media. His consistently doing so is why he gets no benefit of the doubt when he tweets about the ramifications of canceling an NFL game, in which Damar Hamlin's heart stopped on live television. That could be considered insensitive, but the sports shows did very much cover the effect that calling off that game would have on the standings. The Cincinnati Bengals certainly weren't happy about a potential coin-flip situation deciding home-field advantage in a playoff game, and they witnessed the entire Hamlin emergency in person.
Credibility still matters, unless you're running for public office. Where Bayless has built up none throughout the years is when it comes to having respect for professional athletes. He too often resorts to name-calling, and espouses viewpoints that are more in line with how someone would discuss a meal as opposed to human beings.

The "Bosh Spice" days were a true low moment in sports media. Bayless was on the worldwide leader in sports using misogynistic (and arguably homophobic) language about a Black man. Then when that Black man looked him in the eye and told him that he and his family took offense to that nickname, Bayless looked right back at that man and said to play better if he didn't want him to use it.

That was 12 years ago, but it tracks with Bayless' whole career. In one of his books about the Dallas Cowboys, he wrote that Barry Switzer and others were speculating about Troy Aikman's sexual preference in the 1990s. Bayless spent a few pages in the book discussing how he looked into the allegations, but what he was investigating was not newsworthy. It was salacious. No one should ever publicly speculate about another person's sexual preference, but for a person with a background as a print journalist at major newspapers to do that shows a lack of ethics.

Bayless has explained how his "me against the world" approach to sports media was formed. He is the product of a family polluted with addiction. His own mother admitted to him that she never really wanted to have children. Once he got that scholarship to Vanderbilt, he was off to Nashville and never looked back. He has admitted that he has no relationship with his Michelin Star chef brother, Rick. Not only that, Bayless is married and has said repeatedly that his wife knows that his career always comes first.

Using a career to clothe the wounds caused by his childhood is certainly a way to go through life. The career has resulted in fame and fortune for Bayless. Maybe he doesn't care that he is a widely loathed personality, but it does bother him that Charles Barkley has talked about wanting to do him physical harm for decades.

Also caused a major riff with co-host Shannon Sharpe
People shouldn't attack each other, but that ideal behavior should be practiced both physically and verbally. That's why Richard Sherman and Jalen Rose each went out of their way to bury Bayless on First Take many years back. The way that he talks about athletes can be rude and indecent, so he receives the same treatment in kind. It's why his soon-to-be former co-host Shannon Sharpe was indignant at Bayless for taking a personal shot to try and win an unscored television debate about Tom Brady.

Bayless is a habitual line stepper, and he did it again on Monday with Butler. At 71 years old there is no reason to believe that it will stop, but the true cost of his actions is coming due. Sharpe is a rising star and leaving. Bayless is well known, but is only going to grow older and less relevant. As he reflects on the career and adult life that he got through the mud, he is going to have to live with a soiled reputation that he has earned due to all of the people that he has trampled along the way.