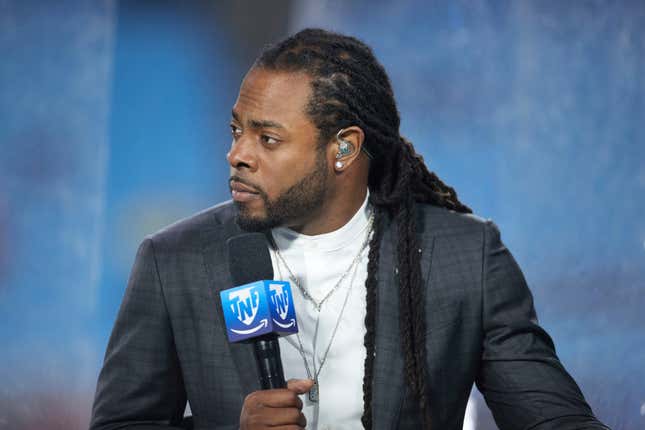 If Derek Jeter and Alex Rodriguez can share a set together then why not Richard Sherman and Skip Bayless? That was a one-time viral social media beef 10 years ago. Bayless is several controversies removed from that one. That A-Rod and Jeter beef stewed for decades, much of it with them next to each other in the infield. There will be no David Ortiz between Bayless and Sherman on Fox Sports 1's Undisputed, but the pairing still would likely work.
Sherman, like Shannon Sharpe before him, is attempting to rise in sports media. They were both opinionated as players and are ideal candidates for studio shows. Sharpe is off to a new career, and with Undisputed off of the air for a couple of months the New York Post's Andrew Marchand is reporting that Sherman is a candidate for the chair opposite Bayless. He also reported that the two met in Beverly Hills on Wednesday.

Maybe the beef is over, or maybe Bayless just knows that he needs a partner who can move the needle to keep the show rolling. He doesn't need the money, but it is clear that man wants to spit hot takes into a microphone as long as his feet can get him through the door and into a seat.

Last May, Bayless spoke on his podcast about the day that Sherman came to First Take and frisbeed insults at him on live television. It was 2013, and Sherman had been named first-team All-Pro in his second NFL season. According to Bayless, he, Stephen A. Smith, and Sherman were brought in via satellite separate cities. When the show was taped like that, Bayless couldn't see who he was talking to. There was a delay in Sherman getting his microphone hooked up, so he and Smith filibustered about who was the best cornerback in the NFL. Bayless said that it was Darrelle Revis.

Sherman spent a few seconds answering Smith's question once he was finally put on air, and then proceeded to do his best to verbally strangle Bayless with G-rated language. The highlights were Sherman saying that he was better at life than Bayless, and calling him an "ignorant, pompous, egotistical, cretin." A phrase that Bayless repeated word for word on his podcast while describing how that moment still bothered him.

In other words, Sherman would be an outstanding hire. Beef always sells, authentic or not. If they do team up, people will be looking intensely to see if there are any true signs of animosity between the two. Then no matter how long they remain civil, the first tense moment on camera that 2013 clip will again go viral.

Sherman already has a podcast within Colin Cowherd's Volume network. Right there is a natural tie-in to Fox Sports. He is much younger even than Sharpe, so Bayless' name will still be at the top of the marquee and Sherman gives just enough juice to keep the show rolling.

It's a setup so good that they shouldn't need Big Papi on the set between them. That is until the first time that Bayless again tells Sherman that Revis was a better football player.