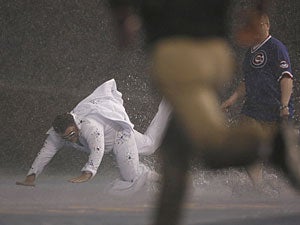 How can you have a giant, water-soaked tarp on the field during a rain delay at Wrigley and NOT expect a guy dressed as '70s Elvis to come running out to slide across it? It's just common sense. Have a good time filling out the paperwork on this one, security guy (video following the jump). Actually, it was '70s Night at Wrigley, which explains why Elvis was present. But the monsoon in August, that's another matter. The 2-0 win by the Astros may be the only game ever to be called due to rain, lightning and a tornado warning.
The first holdup was a 2-hour-45-minute monsoon delay when a wicked front rolled through before the sixth inning. The second delay, thanks to a reprise of thunder, lightning and rain blown sideways in a gale-began at 11:13 p.m. and brought things to a close with one out in the bottom of the eighth.
But not before Elvis made his dash. Thank you, King, for making baseball fun once again.
Note to grounds crew: There's a rather valuable piece of jewelry up for grabs somewhere in that tarp the next time you unroll it:
With the Cubs batting in the bottom of the eighth, the thunder and lightning resumed with a vengeance. After one particularly jarring explosion, Houston's Lance Berkman threw off his metal chain and then sprinted off the field, refusing to risk electrocution.
Elvis At The Cubs Wrigley Field [YouTube] Cubs Lose To Astros In Lightning-Shortened Game [Chicago Tribune]