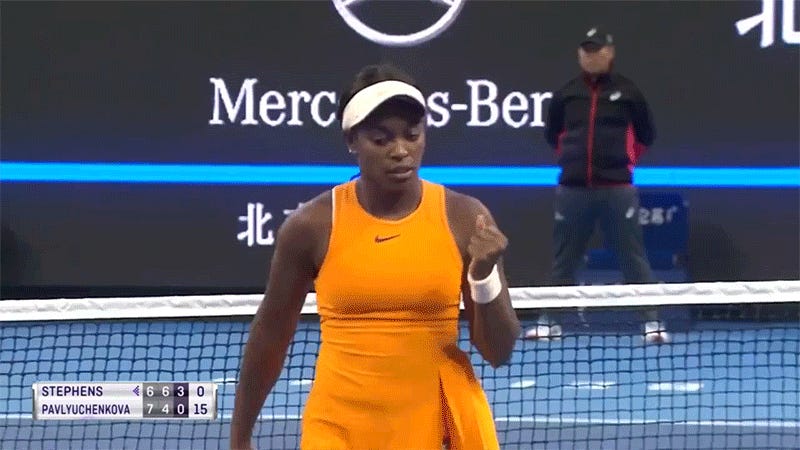 In the very first round of the China Open on Sunday, a new baby beef was slapped on the grill. Down 2-5 on return in the second set against Sloane Stephens, Anastasia Pavlyuchenkova called for the physio to treat her right shoulder. The timing of that request—down two breaks, with the set on the opponent's racket—was odd. Stephens, who was ready to serve out the second and move on, felt she was being iced.
It worked, briefly: Stephens saw her serve broken when play resumed. She still took the set 6-4, but was pissed off by her opponent's sportsmanship. Between the second and third sets, umpire Jenny Zhang had to physically separate the two players. "What's disrespectful? You called the physio at 5-2. You're not even injured," said Stephens, approaching her opponent. "Don't be ridiculous."
The beef happily survived into the third set, culminating in the best possible outcome: antagonistic, taut tennis. At 3-0, the women played a fantastic point up at the net, all reflexes and residual spite:
With her second-to-last stroke, Pavlyuchenkova smacked an overhead right back at Stephens. While playing the ball right into the opponent is a legitimate play in tennis, here, Pavlyuchenkova made an unusual choice with an overhead right at the net and a wide open plain of space in the ad court. Stephens's take was unmistakable, though: "Fucking bitch tried to hit me!" Stephens won 6-7 (8), 6-4, 6-4.