Corey Kluber's shortest start of the season came in Game 2 of the ALDS. His third-shortest start game in last night's Game 5. In between, his second-shortest start of the season, was a May 2 outing in which he was pulled after three innings with a lower back strain, with which he was placed on the DL and missed a month of the season. He came back healthy and effective and became the Cy Young frontrunner, but given his no-good October, there are a lot of whispers that he's been throwing hurt again.

Those whispers predated last night, when Kluber was yanked with two outs in the fourth. It was always a little odd that Terry Francona rearranged his rotation to send out Trevor Bauer for Game 1, though Francona's given justification—that this would allow Kluber to come back for a potential decisive game on normal rest—was pretty good.
But Kluber never looked like Kluber against the Yankees. In two starts, he went just 6 1/3 innings, gave up 10 hits and three walks, pitched to a 12.79 ERA, and surrendered four home runs—more than he allowed in all of September, when he was named AL Pitcher of the Month.
Sometimes a team just gets to a pitcher, and sometimes a team just gets to him twice in a row, but with the rumblings about a reoccurrence of Kluber's back injury, there were sure to be questions. And the strangely phrased answers from Francona and Kluber do nothing but convince me he was hurt.
When asked if Kluber might have been fighting a back problem, Francona replied, "You know what? I think he's fighting a lot, and I think you also have to respect the fact that the guy wants to go out there and he's our horse."
"I don't think anybody is 100 percent at this point of the year," Kluber said. "I was good enough to go out there and try to compete. I don't know if I need to get into the details. I was healthy enough to go out there and try to pitch."
G/O Media may get a commission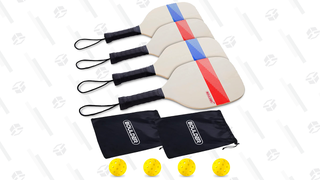 It's Pickleball
Pickleball Sets
I have absolutely no inside information, but I'd bet that Kluber was hurt, and that we'll find that out officially soon. If only because it makes more sense than any version of events where he was just bad.