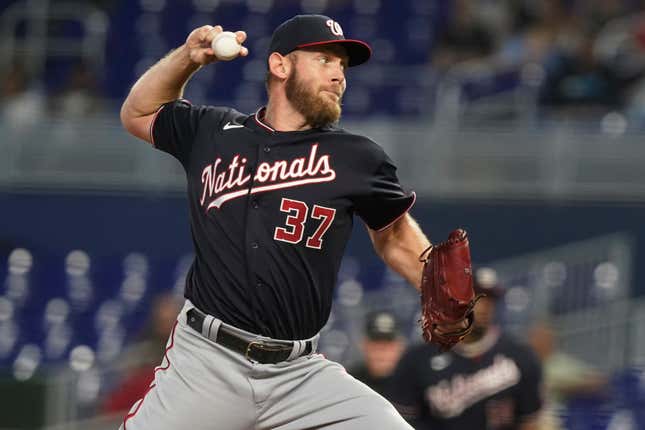 Stephen Strasburg's announced retirement due to thoracic outlet syndrome isn't so much a sad time as it is a prophecy fulfilled. Strasburg emerged from San Diego State and the minors as the most highly touted flamethrower in a generation.
Did Sweden just declare sex a sport?
His rise was almost mythical. In three years, he'd gone from an undrafted hurler in a 1,500-player draft to a No. 1 pitcher known for a 102-MPH fastball. All the indications were that he had the velocity and control of a Hall of Fame ace, but the alarms blared that his body was here for a good time, not a long time. He was a meteor shower, you gaze at it in awe, knowing it would eventually burn out. It's a miracle what he was able to accomplish despite the glitchy pitching mechanics that scouts warned would be his demise.

For a new franchise in the D.C. area, Strasburg lit the fuse on a prosperous era and he was dynamite from the start. After exploding out of the gates with an electric 14-strikeout, four-hit masterpiece against the Pittsburgh Pirates, Strasburg was the crown jewel of the Nats organization. He was also half Hall of Fame-caliber ace, half injury-riddled rehab assignment pitcher.

The biggest concern about Strasburg was the "inverted W" his arm made during the cocking phase of his delivery that threatened the stability of his elbow. Sure enough, by August of his rookie year, Strasburg had been on the disabled list twice, shut down for the season and scheduled for Tommy John Surgery.

While every other phenom drafted post-Strasburg was traded or scooped up in free agency, Strasburg and the Nats stayed together through injury woes, culminating in a 2019 World Series victory. D.C. appreciated Strasburg gluing himself together long enough to fan 14 batters in two starts, allowing just four runs, leading to his being awarded the World Series MVP. After the 2019 season, the dopamine rush was so strong that management inked him to a 7-year, $245 million contract.
Not long after the series, nerve issues popped up in his pitching hand that extended into 2021. Since his July 2021 shutdown to relieve the side effects of his thoracic outlet syndrome, Strasburg's been on the mend. On March 30th, Strasburg was placed on the 60-day IL to deal with setbacks for the final time. Ultimately, enough was enough.

What are Strasburg's Hall of Fame odds?
At his peak, Strasburg resembled a surefire Hall of Famer. His 10.5 strikeouts per nine innings ranks seventh-best career rate of all-time. In eight postseason appearances, he logged a 1.62 ERA, however, injuries sunk his volume. Strasburg's 113 wins likely won't be enough even with the diminished importance of wins to voters' consideration. The Hall of Fame starter with the fewest career wins is Candy Cummings with 145. In Strasburg's final season as a functioning pitcher in 2019, Baseball Reference's age-based Similarity Scores compared him to Gerrit Cole. If he'd maintained that pace for the last two years, he'd probably be well on his way to Cooperstown. Instead, through age 33, his closest comparisons are Adam Wainwright, Corey Kluber, and Chris Sale.

After the 2010 Tommy John surgery, Strasburg rehabbed almost the entire 2011 season, returned stronger in 2012, pitching in 28 games, cobbling together a 3.16 ERA for the best team in baseball during the regular season, and was named to his first All-Star team. However, that season ended ignominiously when the Nationals shut down Strasburg in September after he reached his designated pitch limit. Even when he wasn't actually injured, the narrative was that Strasburg had become a burden. In another darker timeline, Strasburg could have wound up as a story of lost potential a la Kerry Wood. Fortunately, for him, Strasburg was able to power through and stave off the end long enough to hit a few milestones. After each prior injury, Strasburg found a way back to the mound.

He eventually rebounded from that setback and was consistently one of baseball's top hurlers through 2019. In 2014, he led the league in strikeouts, and finally started more than 30 contests His individual peak during that span was a 2017 season in which he earned a 2.52 ERA and finished third in Cy Young voting.

Time missed due to injuries must be considered, but even his best six-year stretch won't be enough without a Cy Young Award to show for it. Between 2013 and 2019, he was Top 10 in win percentage, strikeouts per nine innings, and wins, but only 18th in ERA. Strasburg should have entered Cooperstown as a National. Instead, his fans will have to settle for hoarding all the memories and thoughts of what could've been