Depending on your prejudices and proclivities, there are two ways you can view Real Madrid overcoming Atlético Madrid on penalties in this weekend's tense but unspectacular Champions League final. One's perhaps a little too cynical, the other a touch too positive, but both are mostly fair and accurate.
Option one: after chancing into a historically easy path to the Champions League final via just about the luckiest knockout round draws imaginable (Roma, Wolfsburg, Man City), Real Madrid, an exceedingly talented but demonstrably flawed team that never put together a single dominant performance against elite opposition, once again muddled their way through a big game and somehow came out the other side with the European Cup.
They scored a single goal from a set piece that was obviously offside. A penalty kick against them ricocheted off the crossbar. Another Atleti PK, this one after 120 minutes of open play couldn't separate the two teams, also hit the woodwork, allowing Cristiano Ronaldo to pretend he made an impact on the match by converting the winner. On balance, Real outplayed Atlético for longer stretches than Atleti outplayed Real, but that says more about how uncharacteristically lethargic and passive Atleti performed for all but 30 minutes or so in the second half. Despite all that, plus having at least the four best players on the pitch, and residing in an altogether different economic universe than their opponents, Real Madrid won the Champions League final by the slimmest of possible margins, standing as arguably the least formidable champions of Europe since Chelsea in 2012.
Option two: Real Madrid were dead midway through the season. They were saddled with a recently hired manager who was never a good fit, were fighting through all kinds of inner turmoil with unhappy players looking for a way out, and were no one's pick to seriously challenge for trophies. Then they fired the bad manager, hired a club legend in Zinédine Zidane, and everything changed.
The toxic atmosphere cleared up almost immediately. Real started beating everybody (Zidane's record is 21W-4D-2L) through more consistent play, bested Barcelona in the Clásico, stormed back into the league race (eventually finishing just one point behind Barça), and wound up taking home soccer's most prestigious trophy. From chaos to champion. Not a bad turnaround.
G/O Media may get a commission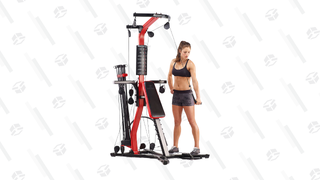 31% Off
Bowflex PR3000 Home Gym
Both of the above interpretations have more than a hint of truth to them. Real's draw truly was ridiculously easy, and even then, they struggled to impose themselves on their vastly inferior opponents. Real did cruise past Roma (though even that Round-of-16 tie would've looked a lot different if the Italians hadn't blown so many scoring chances), but they lost big to Wolfsburg in the first leg of the next round only for Cristiano Ronaldo to bail them out with a star performance in the second, barely squeaked by a sorry Manchester City squad that almost didn't qualify for next year's Champions League, and had that early offside goal and the missed penalty and Atlético's curious performance on Saturday to thank for their stilted game being enough to win the final. No one will be telling stories about the shows this Real team put on en route to the title, because not one of them (save Ronaldo's individual game against Wolfsburg) was memorable. This really wasn't anything like the typical Champions League gantlet.
On the other hand, Real don't have to apologize for their good fortune. They were tasked with beating the teams put before them, and they did so. Nothing else was in their control, and so criticizing them for the luck of their draws says nothing about the team itself. And you can't ignore the difference Zidane made. Rafa Benítez did his best to alienate every player in the dressing room save maybe Gareth Bale with his leadership, coaching, and playing philosophies; that Zidane was able to come in and get everyone on the same page again is no small feat. Ego and personality management is an enormous factor in leading the biggest clubs in the world, and nowhere else is this more true than at the always superstar-laden Real Madrid offices. By doing so, Zidane validated the decision to hire him.
Granted, Zidane's effect was almost entirely psychological. Some of what are perceived to be the Frenchman's strategic masterstrokes (heavily featuring defensive midfielder Casemiro in his starting lineups to add defensive stability; marginalizing Isco and especially the extremely expensive and overwhelmingly skilled James Rodríguez; giving some of those bigger-name guys' minutes to the relatively unheralded Lucas Vázquez) were not only decisions Benítez had come to first, they had been pointed at as examples of Benítez's unfit leadership when he was on the job.
Zidane's team, just like Benítez's team, was at its best sitting in a careful defensive shape, relying on the attacking talents of its forward line to rip open defenses on the counter mostly by themselves. The only real (though admittedly significant) difference between the bad Madrid of the 2015 half of the season and the title-winning Madrid of 2016 is that the players were more amenable to safe counterattacking when Zidane told them to do it. We won't know whether Zidane is something closer to the new Pep Guardiola or the new Roberto Di Matteo until at least next season, when he has time to actually implement his own vision. At the very least, though, his man management bodes well for his coaching future.
Whether Real Madrid's UCL run was an unearned fluke or the just desserts of a rescued season, the currents that pull one way or the other are distinct to this club. Real Madrid exist on a strange plane, as the richest, most famous, most star-studded club in the world that at the same time has the misfortune of regularly being very good in an era of otherworldly greatness on the part of Lionel Messi's Barcelona. Their money and glamour and history engender expectations of unstinting success, of multiple annual titles being the norm and barren years the result of some catastrophic error. At the same time, the presence of Messi at Barcelona and the collection of talent that club has assembled around him makes the prospect of Spanish or European dominance by anyone else almost impossible.

This dichotomy—this gap between expecting to be the best yet so rarely being able to achieve it—creates many of the circumstances that make Real Madrid the club it is. It's why Florentino Pérez and his promises of pricy Galácticos to overturn the Barça hegemony can sound so persuasive to those who sustain his club presidency. It's why Pérez's ultimately futile attempts at effectuating his policy have made him so impetuous, cycling through ever more expensive and famous players and managers with nary rhyme nor reason, save his desperate attempts to find something—anything—that can reassert the Blancos superiority over the Blaugranas for good. It's why, in direct and sustained competition with Messi and Barça for an entire year, Real can only win one league title of the last eight, and yet by avoiding them in a multi-staged, Europe-wide, best-of-the-best knockout tournament like the Champions League, they can win two of the last three. (It's also why Barcelona can win literally everything one year, come back the next and win almost everything, and still have it feel like something of a disappointment.)
Make no mistake: Real Madrid could and should be smarter and better when it comes to team composition and management. The ease with which Pérez can be seduced by the hot new attacking addition has created the team's habitual imbalances. His insistence on switching from attack-minded to defense-minded managers while rarely giving any one coach more than a couple seasons to fully implement his style means the squad regularly oscillates between wildly different playing philosophies when the value of consistency has been demonstrated time and time again.
While it's understandable that Real would fail to keep pace with Barça, there's no excuse for letting Atlético catch up, too. Had just a couple bounces of the ball gone differently, Atleti could be the ones celebrating their second European Cup today. And had this Real team not been so blindly lucky with the ping pong balls and faced, say, Juventus instead of Roma, or Bayern Munich instead of Man City, or Barcelona instead of Atlético, it's very likely that they wouldn't be enjoying this surprising trophy right now.
At the same time, there's no reason why Real's players and coaches and fans shouldn't bask in this success. Real Madrid are European champions once again—for the 11th time now, more than any other club—and have every right to revel in that. Lucky or not, the trophy is theirs. Best to delight in it now, before Barcelona come and take it away again next year.