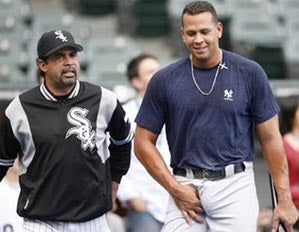 So, now that A-Rod has opted out of his contract, we suppose we have to start speculating about where he's going to sign. We know. It's not fun for us either. But it's our job.
Anyway, as always, it's best to look to Vegas — or at least Bodog — to catch a feel for which way the wind be blowing. So far, they like the Angels. Here are their odds:
What team will Alex Rodriguez be playing for on Opening Day '08?
Los Angeles Angels 3/1
Los Angeles Dodgers 4/1
Chicago Cubs 9/2
Detroit Tigers 5/1
Boston Red Sox 6/1
New York Yankees 6/1
New York Mets 9/1
Philadelphia Phillies 9/1
San Francisco Giants 10/1
Field (Any Other Team) 5/2
As we have made abundantly clear, we're not the betting sort ... but we would think the Giants at 10-1 odds would be a reasonable investment. Plus, you know, they've got plenty of she-male, muscular types there; not to be understated.