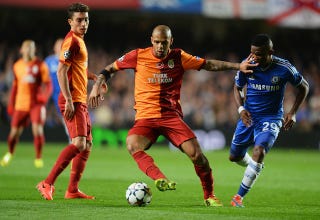 Felipe Melo now knows just how thin-skinned Galatasaray's higher-ups are after he was suspended for two games for retweeting a tweet that implored the club president to consume his own testicles. The tweet's been deleted, but here's a picture of it:
Here's how Google translated this:
"@ArenAslani: We're with you Galatasaray, Melo!" @_felipemelo_ YOU'RE THE MAN! aziz, eat your... stones
The Aziz in question is Aziz Yıldırım, the club's president. I may be wrong for my leap in logic (and if you have a better translation, leave a comment below), but I'm pretty sure we can substitute stones for balls there.
Melo has since apologized on Twitter, saying he was only trying to retweet the picture, not the message. If that's true, and there isn't a good reason to doubt his explanation, then the suspension seems pretty harsh. Maybe Yıldırım really should go eat his balls.
Update: Actually, Yıldırım is Fenerbahçe's president. You know, Galatasaray's arch rival. So now it makes more sense that a supporter of Galatasaray would trash the rival's football man, and why Galatasaray would suspend their player for doing so. An overreaction, but it makes sense.
[Haberler]
h/t Tancredi Palmeri