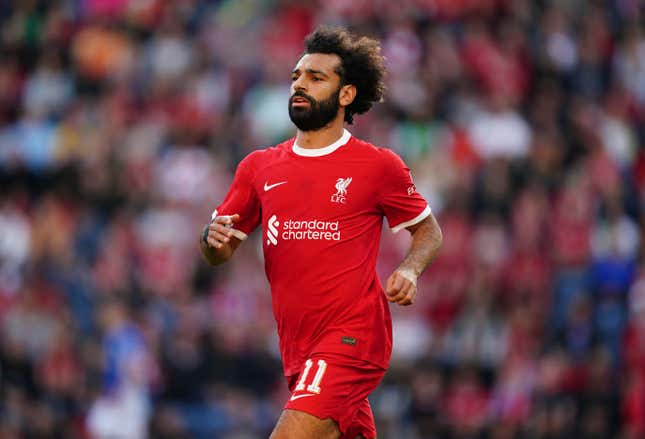 There's a weird gray area for soccer stars after they turn 30. They're still good, maybe not great, yet are so established that they command larger sums of money than a younger player or two who is not yet a household name and could Moneyball their teams the same production. In past instances, those marquee names would piss around Europe for another few years after their prime, playing for clubs with owners wealthy enough to splurge on a slightly used Cristiano Ronaldo or Lionel Messi, before ending up in MLS or retiring.
Can Liverpool Win The Quadruple? | What You Need To Know | FA Cup
Now, Saudi Pro League teams are just blitzing guys with substantial transfer fees as soon as their value wanes at all, and in the case of the world's superstars, they aren't even waiting for that dip. Kylian Mbappe was offered the GDP of Indonesia by Al Hilal, and thankfully refused.
Neymar did not, but his transfer fee was "only" $98.6 million. He's 31 and is no longer capable of reaching peak Neymar — if he ever was at all, which is why he's kind of perfect for the league. That said, if the Brazilian was at this juncture of his career five years ago, he likely takes the best offer in Europe, and is semi-productive for a couple more seasons.
Not anymore. Not after the Saudis decided to sports launder their global perception.
Mo Salah next to be courted
The most recent big-name player to be lusted after is Liverpool's Mohamed Salah. He's also 31, and is entering the "I still have value, but soon my opinion of that value will be higher than what a club is willing to pay me" phase. The Reds so far have rebuffed Al Ittihad's offers, which last came in at $190 million.
The club is reportedly expected to up the offer to £200 million.
For context, the record for the highest transfer fee ever paid is $245 million, shelled out for Neymar by Paris Saint-Germain in 2017. While he never quite lived up to that price, in the moment, it was on the high side but still understandable for a guy of his talent and age. If PSG offered Liverpool £190 million for Salah tomorrow, the club would be unanimously panned.
I don't know what the French word for incredulous is — and I don't trust that Google Translate does either — so I'm just going to say the French media would be incredulous. Saudi teams have an absurd amount of cash, and the way it's being thrown around is a real "threat" to the game, as LFC manager Jurgen Klopp said Friday.
"I don't know how stable it is, and I think the next two weeks will show how much of a challenge it is because whatever happens there [after the Premier League deadline], no one can react anymore," Klopp said.

"That is something UEFA or whoever should have an eye on because we all have to protect the game. I don't know where it will lead to, but it feels rather like a threat or a concern than not because I can't see how we really deny it in these moments, what can we do?"
Klopp suggested laws or new rules to protect European soccer leagues, but didn't offer any specific details on how you regulate another league's checkbook. Liverpool lost most of its midfield to the Saudis over the summer, but that was kind of by design as the team was looking to overhaul in some areas.
Salah, and goalkeeper Alisson, who reportedly caught the attention of Al-Nassr, were not among the departments labeled for upgrades. However, that's not going to stop the Saudis from trying, and very few European teams have the coffers to compete.
Some may try, or like Newcastle, have Saudi backing already, but that's not a prudent, sustainable, or ethical business model. The only people who can stop players from making the jump are the players themselves, and relying on pro athletes to do what's right when offered dizzying sums of money clearly isn't a viable option either.
I guess what I'm trying to say is this: Try to appreciate your favorite soccer players — good, or great — while their ledgers are still free of blood money.