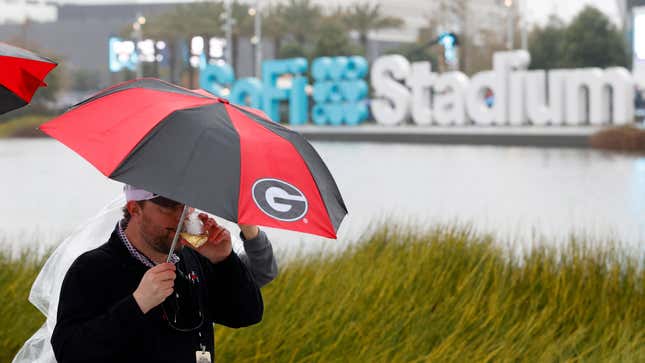 Someone should have told the designers of SoFi Stadium that "It never rains in Southern California," by Tony! Toni! Toné!, was not meant to be taken literally. Sadly, that didn't happen before the college football national championship.

World Series Stats That Will Blow Your Mind
The song is about a man yearning to take a trip to see a woman. That woman makes that man so happy that it feels like a rainy day is not possible in her presence. A beautiful song — that will now be stuck in your head for the rest of the day — but while Southern California is perpetually in a drought, it is physically possible for rain to fall in that region. In the two seasons since SoFi Stadium has been open to the public, twice inclement weather has been a problem.

Last season, there was a lightning delay during the Los Angeles Chargers Week 4 Monday Night Football matchup against the Las Vegas Raiders. Monday Night, a torrential downpour in the Los Angeles area did not disrupt the play on the field, but it was a major problem for the paying customers. The rain whipped into the concourses, resulting in dangerously slick surfaces that resulted in people falling. Some of them required medical attention.
SoFi was designed to be more than simply the newest state-of-the-art sports stadium. Considering it took 40 years of bickering, lawsuits, and relocations to finally get a new football stadium constructed in Los Angeles, the finished product needed to leave an indelible architectural mark.
The designers set out to make the greatest sports entertainment complex the world has ever seen. When taking on a project like that, it's best to start with natural advantages. And in California, the advantages start with the sun.

It's out more days than it isn't, and with the low humidity in SoCal, why not let as much of it in the facility as possible? One way the designers decided to take advantage of the natural light was to make SoFi the world's first indoor/outdoor stadium.

The roof covers the entire top portion of the stadium, and the portion over the field is translucent. Also, there is open-air space a few levels up from both end zones. This allows even more natural light, as well as the Santa Ana winds, to breeze inside.

"No walls on this building so as you look around, streaming sunlight in, it's basically a 22-acre covered patio," Los Angeles Rams Chief Operating Officer Kevin Demoff said to Fox 11 LA in 2019.

It sounds lovely, but no one sits for three hours on a covered patio when rain is accompanied by 30-plus mile-per-hour wind gusts.

Occasionally, California gets atmospheric rivers. They are these water vapors that are as long as a river and can contain just as much (sometimes more) water, which is then dumped wherever the system has settled. Think of them as nature's way of offsetting the many months that the Pacific coast can go without rain.

California doesn't get them every year, and it had been a while since a big one had arrived — the last time was during the 2019 winter. In February alone, California got drenched with 18 trillion gallons of rain in only 19 days. There were also some bad storms in 2017.

Per the Los Angeles Times, Los Angeles International Airport — just a few miles from the stadium — received more than double the average amount of rainfall from Nov. 2016 - Feb. 2017. Those storms were so bad that construction on SoFi Stadium was delayed, and couldn't open until the following year. That is why the Chargers had to play an extra season at the 27,000-seat Stubhub Center.

Giant storms only two winters apart from each other. Some might take that as a sign that a "covered patio" design might not be best for a building that will have tens of thousands of people in it during the months when it is most likely to rain.

Clearly, the designers of SoFi stadium didn't take a hint, and they did go on to build a facility that is truly one-of-a-kind. It is quite a sight to behold, the gleaming silver cover that stretches over most of the facility with that clear roof over the field. Then, once inside, so much is built with clear material that it does allow the sun to do its job.

On an average day, the design perfectly accentuates the beauty of Southern California. It will make a person understand what Raphael Saadiq and Timothy Christian Williams were thinking when they wrote "It never rains in Southern California."

The thing about songs though, is they eventually stop, as does sunny weather. Getting too caught up in an idea, and ignoring the realistic warning signs early, can result in visitors sliding around a soaking-wet, multi-billion dollar facility.