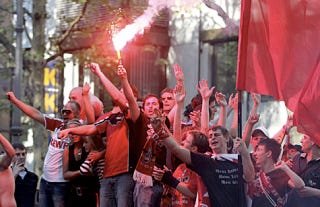 The German newspaper's headline was "Shit hits the fans at Bundesliga match." That's a hefty burden up to which a story must live. Let's see if this one does:
Schalke 04 fans meanwhile might have chosen a howling siren given the choice – at their team's match against 1 FC Köln [Cologne] over the weekend, some were showered with faeces and urine by the opposition.

The police confirmed on Tuesday that at least one person in the Köln fan block had been seen 'placing' faeces into a plastic beer glass and then throwing it at his rivals. The solid organic missile was followed by at least two urine-filled plastic beer glasses.

"We as a club obviously distance ourselves from these people," said a spokesman for 1 FC Köln fans. "This behaviour is not acceptable. There cannot be two opinions on this."
Yep. It did.
Köln lost 5-1, by the way. Ain't that some shit.
Shit hits the fans at Bundesliga match [The Local] (H/T Tomuban)
Cologne fans hunted after urine, faeces thrown [AFP]