Things are looking good for the Cowboys. They shellacked the Giants 19-3 in the season opener, just two days after a district court judge granted a preliminary injunction against the NFL that assures that star running back Ezekiel Elliott will likely be able to play all season long. To hear owner Jerry Jones tell it, those two things are related.

"I think every person that was part of the Cowboys was uplifted by the decision. "It was a good one," Jones said. "Although he was playing in this game no matter what, the idea that we could have him for an extended period of time was certainly inspirational."
Elliott was good against a tough run defense, carrying the ball 24 times for 104 yards and catching five passes for another 36. At one point early in the game, NBC analyst Cris Collinsworth asked the audience to "forgive" him for refusing to talk about Elliott's suspension for domestic violence and pending court battle, promising to "just talk about him as a football player."
(Within 10 minutes, NBC aired a package to promote the Thursday game. There was nothing on J.J. Watt's on-field play, but a lot about his commendable and incredibly successful fundraising after Hurricane Harvey. Off-the-field stuff is fine when it makes the NFL look good, I guess. I know I shouldn't be surprised by any of this, but it bears emphasis: Collinsworth and the NBC crew aren't NFL employees; they don't have to do this. And eliding the biggest ongoing story in the NFL is a disservice to viewers, and an insult to everyone's intelligence.)
The game was perhaps most notable for being Elliott's first public comments to reporters since his six-game suspension (upheld by an arbitrator; put on hold by the judge who wrote that Elliott "did not receive a fundamentally fair hearing") was first announced last month.
G/O Media may get a commission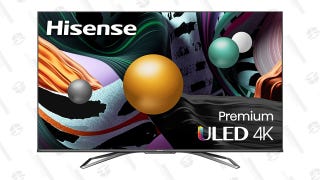 Save $350
Hisense ULED 65" Android 4K HDR Smart TV
Elliot was asked what he was feeling.
"Just relieved. Just relief that I'll finally get a fair trial, I'll finally get a chance to prove my innocence and just happy that I'm able to be with these guys for as long as it's permitted, not having to miss time and be away."
He was asked the hardest part of the whole process.
"Just kind of your name getting dragged through the mud. It's been 14 months like I said. Just sort of being associated with that. That's tough."
He was asked if he's learned anything from the entire situation.
"I'm not really talking about it anymore."
Cris Collinsworth can relate, I suppose.
Jerry Jones eagerly held court with reporters, explaining what he views as the key difference between this pending legal battle and Tom Brady's, which ultimately resulted in the upholding of the NFL's suspension.
"Well, that was about whether or not the player had misrepresented to the commissioner," Jones said. "We've got rules that say if you don't tell the truth to the commissioner then you can get sanctioned. Those are rules. That's not the case here. Zeke gave them everything plus some that he needed to have here."
(This, it should be noted, is a questionable statement. A close read of the NFL's report indicates the league laid a heavy focus on Elliott's refusal to cooperate, including his declining to turn over cell phone records, and statements he made to investigators that were later contradicted by police reports and text messages. But the NFL did not cite a lack of cooperation in its letter to Elliott explaining his suspension, so presumably it won't be an issue at trial.)
Sunday night promised to be a decent microcosm of what to expect over the next year or so, as Elliott's case against the NFL wends its way through the court or courts: It's a story that's always going to be looming, popping up again and again to make you distrust this league and most everything about it, and you're going to be equally exhausted by hearing about it and not hearing about it.