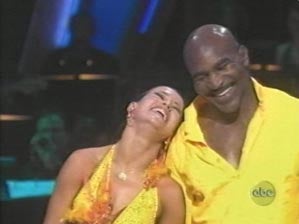 You knew, somehow, if Evander Holyfield just hung around long enough, waiting for someone to need a big name to highlight some sort of grueling pay-per-view spectacle, someone would give the 44-year-old former heart patient the opportunity to fight for another championship. (Or die trying. Seriously. He might die.)
Evander Holyfield has been given the chance to become a five-time world champion at the age of 44. The American will face WBO heavyweight title holder Sultan Ibragimov in October after the Russian's scheduled opponent pulled out citing illness.
We can no longer decry the brutality of boxing to the sad souls who take part in its cruelty. We all know it, and we're just piling on. Fortunately ... human beings can take steroids. That helps.
Holyfield Lands World Title Shot [BBC News]
Steroids Taint Evander Holyfield's Career [The Fanhouse]