When Teddy Bridgewater's leg exploded into powder, it looked like the Vikings were in trouble. When Adrian Peterson hurt his knee then did a walk of shame through a restaurant, it looked the Vikings were in even more trouble. Instead of collapsing into a dumb pile of rubble led by Shaun Hill, they're 4-0, the only NFC team to achieve such a record. Tonight, they put a royal whooping on the Giants and dominated every facet of the game thoroughly and with apparent ease. It's far too early in the season for such a designation to matter, but Minnesota looks like they are the best team in the NFC right now, injuries and all.

It all starts with their defense, who once again put in a shift tonight. The Giants managed but one touchdown, after Paul Perkins got loose and made one very nice run for 67 yards. Aside from the touchdown after that spectacular play, their only other score was the result of a bad fourth-down offsides penalty. On every other drive, Minnesota took it to Eli Manning and the Giants. This was the Vikings' first game without a sack (a far cry from their eight against Cam Newton), but they still managed to get in Manning's face all game long.
The Vikings don't have any glaring weaknesses on that side of the ball; Harrison Smith is one of the best safeties in the game; Terrence Newman can still move with receivers a decade younger than him, like he did against Odell Beckham Jr. (Beckham also did not look right tonight); Anthony Barr and Eric Kendricks can move in coverage and also drop hammers if need be; the line, led by Everson Griffen and Linval Joseph, has been tremendous. The team also has plenty of depth behind its stars, and they haven't allowed more than 16 points in a game this year (for comparison, the Broncos have only held opponents to less than 16 points once this year). It helped that they were playing the hapless Giants tonight (whose entire evening can be summed up in the following play) but they are legit.
As for Bradford, he's one of only three QBs (along with Dak Prescott and Carson Wentz, of all people) without a turnover this year. It's not that he's not risking anything, he's just been very accurate. The short-sighted trade that the Vikings made for him looks like it certainly paid off in the immediate term. Second-year receiver Stefon Diggs has evolved into one of the better receivers in the game, and he gives the Vikings the ability to break the game with big plays every time he touches it. Together, they aren't the sort of pairing that can come in and outshoot teams on their own, but Diggs in particular makes the offense dynamic enough to move beyond merely competent. With their dominant defense, they've hit on a winning formula.
G/O Media may get a commission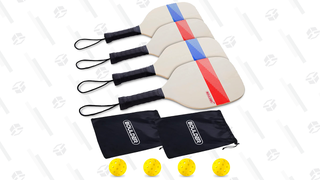 It's Pickleball
Pickleball Sets
With defending conference finalists Arizona and Carolina struggling, Minnesota might very well be the best team in the NFC (this might say more about the sorry state of the NFC than Minnesota's dominance). Certainly, they'll be favored to win the NFC North. Seattle might be more dangerous, but their shaky offensive line and inconsistent running game warrants skepticism. Minnesota's offensive line is also not a team strength, which is worrying given that Sam Bradford's knees are made out of papier-mâché, but they feel like a more balanced football team. There are still twelve more games for Bradford to turn back into a pumpkin or another three stars to get hurt, but as of now, nobody's better than Minnesota.