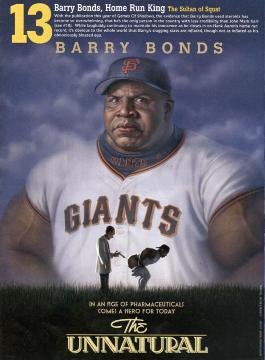 The news you've been waiting for is finally here: The Barry Bonds steroids case is going to be made into a movie! When I first heard about it I was hopeful that it would co-star Tim Allen and involve Barry finding the true meaning of Christmas. But no, it's going to be based on Game of Shadows; you know, the book that made reading cool again for kids.
HBO Films is planning to turn a best selling book about Barry Bonds' alleged steroid use and the federal government's wide-ranging probe into performance enhancing drug use in sports into a movie, one of the book's authors said Thursday. Lance Williams, a reporter at the San Francisco Chronicle, said that Ron Shelton has been tapped to direct the flick and will co-write the script with "Tin Cup" partner John Norville once the Hollywood writers strike is settled.
Suggested working titles:
• Needle Park
• Vince Conte Hears A Who
• Mr. Magorium's HGH Emporium
• Big
Of course, 100 Percent Injury Rate has a few good ideas on casting.
HBO To Turn Barry Bonds Steroids Book Into Movie [Yahoo Sports]