What minor league baseball team dares to feed your kids for free at every 2009 home game? The Lakewood BlueClaws. Take that, stupid economy.
Actually, both the BlueClaws (Single-A, South Atlantic League Phillies affiliate) and the Trenton Thunder (Double-A, Eastern League Yankees affiliate) are adopting the unusual promotion this season, expanding their traditional "Kids Eat Free Mondays" to every home game in an effort to help parents deal with the troubled economy. And, let's face it, it can't hurt ticket sales. Any kid 12 or under attending a game hosted by either team will get a voucher for free grub.
"Minor league baseball has always been a family-oriented game, and with the economy in the shape it's in and parents have trouble making ends meet, this seemed like a good idea," BlueClaws general manager Geoff Brown told me by phone today. "Shop Rite sponsored our 'Kids Eat Free Monday' promotion last year, and this year they've agreed to sponsor us for every home game."
In case you're wondering, that's about $105,000 worth of food. Last season, when the promotion ran only on Mondays, it cost approximately $18,000. So how can they afford to do it? Lakewood and Trenton, the only two affiliated Minor League Baseball teams in New Jersey, together average around 900,000 fans per year. Lakewood has led the league in attendance for the past eight years. So while the state of the economy is pounding some minor league teams, the BlueClaws and Thunder aren't feeling the pinch quite as much.
"The Jersey shore area has a tourist-based economy, so it's not like we've got a big auto plant closing and everyone is losing their job," Brown said. "Our fan base is about 1.1 million, which jumps up about a million-plus over the summer. So we're not hurting for fans. When the economy is bad, people may cancel that trip to Disney World, but they're not going to skip that trip to the shore."
G/O Media may get a commission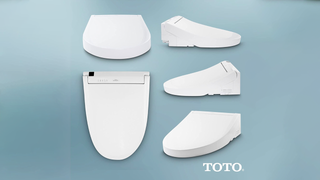 44% off
Toto Washlet Electronic Bidet Toilet Seat
So it's all the more impressive that the two teams are stepping up and helping out; changing the world, one hot dog at a time.
"It's nice to be able to give back a little to the community, because they've always supported us," Brown said. "That give and take is what baseball at this level is all about."
Both teams, however, appear to be courting doom with their upcoming "CC Sabathia Eats Free" promotions in July.
Kids To Eat Free At Every 2009 BlueClaws Home Game [Lakewood BlueClaws]