Let's try something here. Here's a song called "Hot and Ready," by the band UFO. Give it a listen.
If this doesn't rock your ass off—if you're thinking, "Ehhh, maybe, I'm not sure"—then go back to nursing your IPA and nodding along to the Mountain Goats or Sam Smith or whoever. I can't help you. But if you have the correct opinion—if you wonder, "Holy shit, that is an amazing solo, and it's just the opening riff? Who is that?"—then you have uncovered one of rock 'n' roll's greatest secrets.
In the annals of rock history, tucked way behind your Zeppelins and Floyds, just trailing your Big Stars and Thin Lizzys, but just ahead of your Raspberries and Budgies, there resides a band that only die-hards and full-on music geeks seem to truly appreciate (or even know): UFO.
At the height of their mid-'70s heyday, this hard-living, ass-kicking, spandex-wearing quintet rocked like few have dared to rock, even if few dared to rock alongside them. They boasted a haughty, combative frontman with great pipes; a hedonistic, polka-dot-pants-wearing bass player who made Keith Richards look like Debby Boone; and simply one of the best hard-rock guitarists of all time. They should have ruled the era when the amps were loud, the Camaros fast, the mullets magnificent and unironic. UFO put out five good-to-brilliant studio records that stand toe-to-toe with any of the great albums of that era; then, in 1979, they released their masterpiece, Strangers in the Night, a powerful, punishing live album with the visceral impact of a Jack Lambert clothesline tackle.
"The album is incredible, absolutely incendiary," says former Rage Against the Machine guitarist Tom Morello, now a solo artist who records as the Nightwatchman. "It captures a great band at the height of their powers." Eddie Trunk, the nationally syndicated DJ and host of VH1's That Metal Show, concurs: "Strangers in the Night is pretty much my favorite album of all time. And by all accounts it really is live, making it even more amazing."
G/O Media may get a commission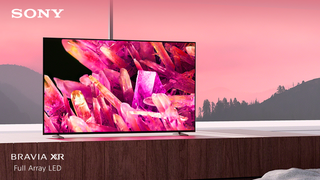 $400 off
Sony 55 Inch 4K Ultra HD TV X90K Series
But these cock-rockers flew too close to the sun. Right now, 35 years after their epochal live record, UFO are getting set to put out a new album (A Conspiracy of Stars, their 22nd studio release) that most likely won't be downloaded (or even pirated) by the millions (or even the hundred-thousands) when it's released in March. And yet they soldier on, dutifully playing smaller clubs and mid-day festival slots and the occasional ribfest, with their awesome past unjustly consigned to the dustbin. UFO are your favorite hard-rock band's favorite hard-rock band, but they command recognition from almost no one else. Which is wrong. Because UFO in their prime were awesome, and the story of how they got there is even … awesomer.
---
Despite the heights (and depths) they eventually reached, UFO didn't seem to have packed stadiums in their future when they formed in England in 1969. The band began as a second-rate blues/space-rock band that typically posed shirtless; their specialties were a cover of Eddie Cochran's "C'mon Everybody" and an 18-minute jam titled "The Coming of Prince Kajuku."
Still, they had a devoted following in Germany and, you guessed it, Japan. Not that this did them much good, of course—their third album was only released in Japan—and the future didn't look too bright.
Then God and/or Satan intervened one fateful night in 1973, when guitarist Bernie Marsden forgot his passport and couldn't make the first gig of a German tour. Fortunately, UFO's opening act, Scorpions (yes, at one point they were bigger than Scorpions) lent them a teenaged, flaxen-haired six-stringer named Michael Schenker. (Not to be confused with his brother Rudolf, who also played guitar for Scorpions.) The tow-headed Michael couldn't speak a lick of English. He was only 18 years old. He could, however, play the fuck out of the guitar. And suddenly, Marsden was out, and everything changed for UFO.
Here's an analogy: You play on a regular pickup-basketball team. You're not bad, and you all know your roles, stay in your lanes, and stick to the fundamentals. And then one day, Michael Jordan joins your team.
"Schenker could be one of the top five guitarists of all time," says Phil Jaurigui, owner of L.A. recording plant Swing House Studios. "And with UFO, it all fit together. They had great classic, rock songs, but were able to integrate a guitar hero into those songs—and it was totally seamless."
The newly invigorated band released Phenomenon, their 1974 major-label debut, to strong reviews: Rolling Stone called it "one of the most exciting debut albums of the year." There were a few meandering duds (the titles "Space Child" and "Crystal Light" tell you all you need to know), but they were easily overpowered by some amazing guitar theatrics, as typified by the rollicking "Doctor Doctor" and the staccato "Rock Bottom."
Their next two albums were, in rock-critic parlance, solid if unspectacular: 1975's Force It had its anthemic moments, but something wasn't quite clicking. The following year's No Heavy Petting fared no better: It featured a brilliant, surreal cover (a woman intravenously connected to a monkey, courtesy of famed album-art designers Hipgnosis), but the result peaked at no. 169 on the American charts.
UFO picked a new producer for the next album, and renowned disciplinarian Ron Nevison helped the band put out their best studio release, 1977's Lights Out. Schenker's playing takes a back seat to more complex arrangements—these are fully crafted songs, not just flimsy excuses for guitar pyrotechnics. Tunes ranged from "Too Hot to Handle," a fist-pumping, stone-cold classic, to "Alone Again Or," a quixotic cover of the Love hit.
The album closes with UFO's piece de resistance, the epic power ballad "Love to Love." The nearly eight-minute-long song features singer Phil Mogg at his most soulful, a cascade of swirling strings, and a Schenker solo that dramatically closes the album and absolutely pulls the oxygen from the room. There's simply no reason this song isn't held in the same regard as "Stairway to Heaven." In fact, veteran rock journalist Martin Popoff tells me it's even better: "Its parts are all cooler and smarter, the wind-up at the end is better, and the production is better," he says. "Its melodies are more sophisticated, it's got time-signature hiccups—UFO channels a bit of Queen here, and they really work the track." The album reached number 23 in the U.S., their highest-charting release in America.
UFO's next studio album, Obsession—recorded in an abandoned L.A. post office—isn't as tight, but Schenker's playing remains absolutely ferocious. Classic rock radio aficionados will undoubtedly recognize "Only You Can Rock Me," but the guitar heroics reach an apex with the incisive "You Don't Fool Me." A complicated riff kicks off the tune, punctuated with wicked fills; the lyrics are nothing special ("You build me up now, you pull me down / You make me come on, yeah, keep me around"), but Schenker is at his pinnacle. While the rhythm section keeps a sledgehammer four-four beat, he announces his solo by simply holding one note until it explodes in a frenetic cacophony.
As far as the lyrics go, Mogg penned almost all of the band's words and, well … let's just say Bob Dylan's place in rock history is safe. But do you put on Judas Priest for the lyrics? Deep Purple? Have you ever checked out the words for "Smoke on the Water"? (Hint: They're dumb.) Mogg largely sang paeans to fast cars ("Let It Roll"), strippers ("Cherry"), and being in a kick-ass band ("Too Hot to Handle"), with the occasional elegant ballad thrown in ("Try Me"). Was it poetry? No. Was it good enough? Undoubtedly.
Most people didn't listen to this band for the words, anyway. "UFO came around at an important time in my life," says Pearl Jam guitarist Mike McCready, an admitted fanatic who moonlights in a UFO cover band, Flight to Mars. (Hell, the guy used to trade Schenker photos with fellow Pearl Jam guitarist Stone Gossard.) "I was 12 years old, and rock 'n' roll was this giant, exciting mystery to me. I had just started playing guitar, so Schenker was a beacon of light, and I aspired to be like him."
Nevison says people like Gossard were lucky to get UFO records at all— that the band's crappy label wasn't able to distribute the albums properly. "Chrysalis couldn't sell records," he says. "They had good promotion, but the albums simply weren't in the stores. They didn't know how to get the albums out. So you'd go to buy a UFO album, and the record store wouldn't have it. So you'd buy Led Zeppelin instead."
But for UFO, it wasn't about the albums. These guys were first and foremost a live band, and their studio excursions paled in comparison to the triumphs—and tragedies—of their life on tour. It's where they truly came alive, and arguably, where they died.
UFO toured relentlessly, sharing the stage with the likes of Fleetwood Mac, Foghat, KISS, Rush, Jethro Tull, and Cheap Trick. They had a reputation for stealing the show, regularly earning encores while opening for the J. Geils Band, much to the headliner's consternation. "UFO had only a small cult following at that time—or for that matter, ever—but that night I saw them, they hit the stage like they were Led Zeppelin," says Patterson Hood, co-frontman of the Drive-By Truckers. "Schenker was all over his Flying V, and Mogg was twirling his microphone like Roger Daltrey. The songs were great, and the crowd was blown away. AC/DC followed, and they were also incredible, but I always maintained, and still do, that UFO owned that night."
On an episode of the '70s syndicated-American-TV staple Don Kirshner's Rock Concert, we encounter a lean, sinewy band firing with controlled power. Bell-bottomed bassist Pete Way prowls the stage like a panther, while Schenker (shirtless, of course) absolutely owns his red flying V. But the savvy viewer can't help but note the lack of interaction between Mogg and his lead guitarist. Sure, it can be awkward for a singer—especially one who's not exactly David Lee Roth in terms of charisma—to just stand there and look cool while the other guys are rocking out. But there's not even a glance of eye contact between the band's two most important members.
"No, there's no love lost there," says UFO fanatic Deena Weinstein, Ph.D., a sociology professor at DePaul University and author of two definitive books on heavy metal. "There's not a peacemaker in the band. Pete Way didn't have the status to tell Mogg to lay off, and Schenker had no friends in the group. The bands that last almost always have some kind of cohesion—there's some member who holds it together. Geezer Butler in Black Sabbath, for instance. UFO didn't have that."
This conflict became the loose thread that ripped the band's mighty curtain asunder: However epic UFO were onstage, the meticulous German guitarist and the drunken Brits surrounding him were a bad match off it. In interviews, Mogg referred to Michael as "Michelle," while he and Way constantly reminded Schenker who won WWII, as Neil Daniels notes in his UFO bio, High Stakes & Dangerous Men.
"The claim that I once shat in Michael Schenker's shoe and made him put it on is rubbish, although I might have shut his head in the door and then slammed it," Mogg once told rock journalist Dave Ling.
For his part, Schenker would spend hours methodically practicing, going over his solos again and again—often in a pitch-black room, Weinstein notes. Meanwhile, Mogg (a former carpet-fitter) and Way (a former warehouse worker) were non-stop jokers in the classic drunken British piss-taking tradition.
"They were on tour with Rush, and Rush used to have dry ice at the start of it," remembers singer Sam Blue in the documentary Strangers in the Night: World's Greatest Albums. "Phil Mogg's gag every night was to get from one side of the stage to the other without being seen in the dry ice. So Rush is doing this wonderful stuff, very moody, and there's Phil Mogg crawling through it. Apparently one night, he pops his head up in the middle and has a look around."
The constant joking and ribbing likely contributed to Schenker's self-imposed distance from the band—he wrote his guitar parts and then just handed them off. "Schenker would give me these amazing, epic riffs, but he didn't write with any sense of a vocalist involved," producer Nevison told me. "The guitar parts were these wandering, beautiful things, but they weren't for a band with a singer."
And then there were the drugs. "The same thing that made Peru famous made a loser out of UFO," Way admitted in an interview with Ling.
Indeed, UFO snorted mountains of cocaine and drank tankers of booze. Way was especially decadent, with leg veins so damaged from heroin injections that they leaked blood onto his feet; as the not-exactly-tame Ozzy Osbourne once put it, "They call me a madman, but compared to Pete Way, I'm out of my league."
"Pete would ask me, 'Rick, you got any heroin?'" Cheap Trick guitarist Rick Nielsen told me. "He asked me that every single night—it was comical. And I have never done heroin, so I never had any. But that didn't stop him from asking me."
"Way was a force of nature," Rush singer Geddy Lee told Ling. "Most people actually need to be sober at some point in the day, but he didn't seem to require that. At one gig we were backstage listening to them play, and the bass just disappeared—of course, he'd fallen off the stage."
Other members of the band were in and out of rehab, including Schenker: "I worked with him on six albums, so I know Michael as well as anyone," Nevison says. "And he was never sober for any of them."
UFO also had a Zelig-like ability to be near epochal rock moments. The night Bon Scott died in 1980, he had plans to meet up with Mogg and co. at a London rock club called the Music Machine. (He never showed up and was later found in his car, dead from alcohol poisoning.) Two years later, UFO was touring with Ozzy Osbourne when he famously urinated near the Alamo. Indeed, after a debauched brunch (yes, brunch) with UFO led to Ozzy losing it onstage, Ozzy's wife Sharon forbade him from hanging out with any members of the band.
Meanwhile, several individual members nearly made it to the next level themselves—Way told me that the Rolling Stones invited him to audition to replace Bill Wyman, but he declined. "I was scared," he says now. "I guess I didn't want to go through all the work, then get turned down."
Schenker had several close calls as well—he told the website Songfacts that he was also asked to audition for the Rolling Stones not long after joining UFO (the mind boggles), and that he was in talks to replace Aerosmith's Joe Perry, as well as Randy Rhoads after the solo-Ozzy guitarist died in 1982. (Steven Tyler's memoir states that Schenker walked into the audition and said, "I'm taking over this band right now," but Schenker denies this.)
And then there's this: Eddie Van Halen was going to try out to replace Schenker in UFO after the mercurial German bailed, according to rhythm guitarist/keyboardist Paul Raymond. Alas, Eddie got cold feet and didn't even audition. "In a Seattle hotel bar with Van Halen, we were up late and messing around," Raymond told Ling. "Eddie said he'd wanted to come down and audition for us after Michael left … but he didn't have the bottle. He didn't think he was good enough."
Way confirmed the story to me via Facebook: "Eddie's a very good friend of mine, and I set up the audition," he said. I got this oddly worded non-denial from Van Halen's camp, however: "Rumors are exactly that, rumors. Often with no truth or validity. Whomever Raymond is, his memory does not serve him correctly."
In addition to their own foibles, UFO seemed snakebitten by bad rock luck. In High Stakes, Daniels rattles off a litany of eye-rolling screwups: They couldn't play a gig in France because the venue's voltage was too low, leading angered fans to bombard the band's bus with rocks and bottles. Someone pilfered their wires and cables in Nuremberg, and in Ludwigshafen their car burst into flames. The band's manager hired a hooker who stole all their money, so they had to call their agent and have money sent to them so they could pay their hotel bill.
And then there's the blunder that inspired an iconic scene in This Is Spinal Tap. When I interviewed Way in Chicago several years ago, he sheepishly told me that the part where Spinal Tap gets lost in the maze beneath an arena ("Hello Cleveland!") was inspired by one of UFO's misadventures. Drummer Andy Parker confirmed the story: "It was an ice-skating arena, and they have all those tunnels with the pipes. And we just ended up getting lost—we were wandering around down there for 10 minutes, then ended up back where we started."
Even fellow touring bands saw the dysfunction: "Something always seemed a little off about them," Cheap Trick's Nielsen says. Something was always going wrong." Another thing that went all the way wrong: Schenker left the band right after 1977's successful Lights Out. "I was so shocked and scared that I actually went away," he says in a brief video documentary narrated by Motörhead's Lemmy Kilmister. "I just simply broke down—I couldn't remember my notes, I was totally preoccupied, I was totally unhappy, and I just panicked."
Schenker eventually returned to the band, but they didn't learn their lesson and continued their debauched ways. Perhaps Way summed it up best: "Unfortunately, we were idiots. But I'd like to think we could redeem that with our playing."
Redemption arrived with 1978's Strangers in the Night, their Citizen Kane, their Mona Lisa, their War and Peace. There are plenty of legendary live albums out there, from the Allman Brothers' to the Who's to Peter Frampton's. (You can keep Zeppelin's The Song Remains the Same, that Quaaludey pile of sludge.) But UFO's leaves them all in its furious wake. Classic Rock magazine called Strangers the second-greatest live album of all time, trailing only Thin Lizzy's Live and Dangerous. It hit no. 7 on the English charts, and topped out at a respectable 42 in the U.S.
Released largely without edits (except for two tracks re-recorded in a mobile studio because the mix was off), the band rocks with unparalleled ferocity— Parker's drumming is Bonham-esque (not as much of the shuffle, but most of the power), and Mogg wails like a more agile version of Bad Company's Paul Rodgers. But unsurprisingly, the album belongs to Schenker: His playing is astonishing, his solos soaring. "Lights Out," a decent rocker on record, becomes anthemic live, a horde of Teutonic steeds raging across the Bavarian plains. I mean, get a load of what happens starting at the 2:00 mark here. Holy FUCK.
"'Lights Out' is truly an F-sharp anthem for the ages," Morello tells me. "It's my favorite UFO song, and Schenker's playing on that one is just insane."
The band shows a surprisingly deft touch as well: "I'm a Loser" tells the tale of a wayward soul that begins with a slow electric piano and slowly builds into a crescendo of classic Schenker brilliance. The album's closer, "Shoot Shoot," perfectly marries the story of a man done wrong by a femme fatale with two chunky power chords, a great bridge, and the best use of a cowbell this side of "Don't Fear the Reaper."
"As far as flawless performance, tone, and intricacy, the guitar work on the live album is the best I've ever heard," says Jaurigui, the L.A. studio owner. But just as UFO were set to capitalize on Strangers in the Night's success, Schenker left again. Just vanished. Sometimes he says it's because Mogg punched him, other times it's that his body couldn't handle the abuse.
Whatever the reason, it was over, and for good this time.
The band brought on Paul Chapman, a previous fill-in, as a permanent replacement, which made sense, actually. He's a completely respectable guitarist; in baseball terms, he'd be a roughly 1.4 WAR player. But man, can you imagine buying a ticket and expecting to see Michael Schenker, but instead, you get this guy?
UFO gamely soldiered on with their new axeman—their first post-Schenker album, 1980's No Place to Run, was produced by former Beatles maestro George Martin. Unfortunately, it was pretty bleh, but the '81 follow-up, The Wild, the Willing, and the Innocent, suggested that they could make it on pure songcraft, not just guitar wizardry. Atmospheric and (for the one and only time) self-produced, it features strings by legendary composer Paul Buckmaster; Mogg was clearly listening to a lot of Bruce Springsteen, and the songs are thus filled with losers, fighters, and crooks trying to get it right. It was an ambitious step in a different direction, and the album broke the Top 20 in England.
But The Wild only achieved mid-level success Stateside, peaking at an unimpressive 77 on the charts. The band's key members slowly trickled away, including Way, who was fed up with the softer, FM-friendly rock Mogg was favoring. The bassist went on to form Fastway with Motörhead's "Fast" Eddie Clarke, then played with Ozzy on the Diary of a Madman tour.
UFO reached their nadir with a 1983 show in Athens, Greece, with Mogg essentially having a breakdown onstage. He'd downed nearly a full bottle of brandy before the gig, and was near-catatonic, half-singing some lyrics and mumbling others. During the fourth song, Chapman caught Mogg's eye—the singer was crying. "I can't do this anymore," he mouthed.
The furious crowd turned on them and pelted the band with bottles. Bassist Billy Sheehan was hit in the head with a crushed beer can, turning his face into a cartoonishly bloody mask. The band scurried offstage and voted unanimously to disband. They all went their separate ways; Mogg would later admit that soon, he was flat broke.
In the early '80s, we did four nights at Hammersmith. Nine months after that when everything fell apart, I ended up having to go to the dole office. I'd never been before. There was a bloke in front of me in the queue. He looked and said: "Aren't you with UFO?" I said: "Yeah." I was already very embarrassed going there. He said: "What are you doing here?" I said: "Same as you. I need some money."

I was absolutely brassic. At the same point I ended up sleeping 'round a friend of mine's because I was so skint. That's when you think: "Shouldn't I have some sort of a royalty?" A lot of that was us doing albums we thought somebody else paid for. Then when you look into it you realise all that studio time, we were actually paying for. Nobody on management had taken the time to explain to the band: "No, you're paying for it." Which was stupid on our part.
As for drummer Andy Parker, he moved to L.A. and got a job in construction, eventually working on houses owned by Tina Louise (Ginger from Gilligan's Island), Lynn Redgrave, and Sharon Stone. "For me, it was always about enjoying the music," he told me in a café off the lobby of a Ramada Inn in Aurora, Ill., shortly before UFO headlined the Downtown Alive! Rocks the Fox festival in 2008. "And when the enjoyment disappeared, that's when I disappeared."
Indeed, two years after the Athens disaster, Mogg re-formed UFO with an ever-changing lineup of old names and new faces, and they've basically never stopped since. An absurd number of players have come and gone—all told, the band's Wikipedia page lists more than 40 past and present members.
Meanwhile, Schenker has enjoyed his own ups and downs. He joined Scorpions and played on 1979's Lovedrive, then bailed on them, too, later putting together his own band (cleverly called the Michael Schenker Group) that boasted one of rock's great drummers, Cozy Powell. Unsurprisingly, the guitarist couldn't keep that crew together, either, and they dissolved after a few albums. Since then, he has teamed up with an increasingly lame parade of poodle-headed characters.
Schenker, of course, is dismissive of latter-day UFO and Mogg in particular: "He carried on with UFO, and UFO went actually lower and lower and lower, until there was nothing left." But I can personally attest that Schenker played a turgid show with some rent-a-hacks at Chicago's House of Blues in 2001; people were streaming out the doors halfway through the set. And at least UFO never made a video like this ...
Moreover, the guitarist has occasionally condescended to be a part of latter-day UFO. Like a bad marriage, the band has reunited with Schenker a few times and hit the road again. But the relationship was just as frosty: "Schenker traveled in a car with his girlfriend, separate from the band," recalls Steve West, drummer for Danger Danger, which toured with UFO in the late '90s. "He had his own dressing room. He showed up right before the show and didn't speak with anyone in UFO. He would walk onstage with them and just play. Pete Way would get in his face and try to rock out with him, and Schenker couldn't care less. It was insane. Hardly moved from his spot onstage. Said nothing, then left. Everyone hoped he would show up for the next gig."
For a while, Schenker's volatility kept drummer Parker, the band's voice of reason, from rejoining the band. "Michael just wasn't stable enough for me," he told me. "I'm the kind of person who wants some stability. I want to walk out onto that stage and know we're going to finish the set, and we're going to enjoy it—rather than someone's going to chuck their guitar down and storm off and we're not going to see him for six months."
Which is exactly how one tour ended, as Mogg told me over beers in the lobby of Chicago's now-defunct House of Blues Hotel.
"We were in Tokyo, toward the end of the tour, and in the middle of the fourth or fifth song, he just smashed the guitar on a pillar and went off," Mogg recalls of Schenker. "And it was Japan, so it's not like the U.S. or Europe where people would boo or jeer. It was complete silence. You could hear a pin drop. Your mouth just drops, and you're like, 'Oh, my God ....'"
The band hustled offstage, Mogg continues, and "the promoter's going mad, and he says, 'Someone from the band has to go out and explain to the audience or apologize and tell them what's happened.' I said, 'I'm not going out there.' Me and Andy said to Pete, 'We'll give you so much money if you go out there.' So Pete went out and explained what happened, and that was that. It more or less screwed us in Japan."
Now, everyone has moved on. Schenker is playing smaller venues with a guy named Doogie White on vocals, while UFO has brought back three-fifths of the "classic" lineup: Mogg, Parker, and Raymond, with respectable player/shredder Vinnie Moore playing guitar. (Way and UFO have decided that a reunion is probably ill-advised for both parties.) Are they solid? Sure. Transcendent? No. But it works well for Mogg, now 66 years old.
"We've got a real good vibe," he says. "I know we're going to do a gig tonight, and there's not going to be any drama. Everyone's going to show up and do their part. It's like, 'Oh, this is good.'"
So it was all there: the talent, the riffs, the tunes, the brushes with greatness. But that big moment for UFO never quite arrived. The question still haunts the halls of rock history: What could they have been? What if Schenker had just maintained, just kept his demons at bay and stuck with the best band he ever had? But that's like asking Courtney Love to keep it together—his instability is likely what made him so brilliant.
"Unfortunately, that's now an essential part of his biography—The Troubled Michael Schenker versus The Talented Michael Schenker," Morello says. "That's a shame, but it's not uncommon for people who are uniquely talented to be uniquely troubled."
Jaurigui compares Michael to his brother, Rudolf Schenker, who played with Scorpions for more than 40 years. "Rudolf has had this amazing, incredibly successful career, but he's a pedestrian guitarist. Whereas Michael is this super-genius guitarist, but he disappears for years at a time, makes records that are iffy at best, and plays with some really random bands. But if he could have just stayed in UFO, they'd all do much more business than they do on their own, and have a simple, happy life. It's too bad."
So if it were me—if it were my band, and I'd had the chance to reside among the immortals, but it all slipped away because my brilliant guitarist was afraid of success, or his lead singer, or whatever, I'd be furious with Schenker. Every day, I'd curse his pointless inconsistency, his inability to grasp just what he was throwing away. I'd also curse the fates that stuck us with an overmatched label, and of course, curse our own drug-addled short-sightedness. Sure, UFO gets the occasional nod—their song "Young Blood" plays in the 2013 Steve Carell film The Way Way Back, while "Doctor Doctor" made a Scrubs promo. But that's cultural detritus. It's not enough.
Yet Mogg—the only guy to appear on every UFO album—is much more serene about it. I've interviewed the wry, engaging singer several times over the years, and each time, I've asked him how he feels about UFO's legacy. Doesn't he feel cheated? Wronged? Pissed off about what could have been but wasn't? I've come at it from different ways every time, but each time, he says no. Instead, he describes a near-zen-like acceptance re: his life's work.
"That's just the way it is," he says. "There's no point going in a direction of thinking about what could have been. There's nothing you can do to change it, so you may as well accept it for what it is. And I'm quite happy with that. I don't want for more than what is. I'm quite happy with what I've got. I enjoyed every minute of it."
"I don't weep for UFO," Tom Morello concurs. "They made some really great records, and their live album is one of the greatest albums of all time. No one can take those points off the board."
---
Joel Reese is a Chicago-based freelance writer whose work has appeared in SPIN, Details, Forbes, Texas Monthly, Chicago, and the Best American Sports Writing series. You can find his work on his website or follow him on Twitter.
All photos by Richard Galbraith.
The Concourse is Deadspin's home for culture/food/whatever coverage. Follow us on Twitter, too.