Oh, look. A sportswriter has parachuted into Detroit and found a hard-luck city with a shrinking tax base in the maw of a recession whose spirits nonetheless brighten because Brandon Inge just ran out a grounder to short. Yay!
This is not to be confused with the last time sportswriters parachuted into Detroit and found a hard-luck city whose spirits nonetheless brightened because its baseball players were running out grounders to short. Nor should it be confused with the time sportswriters parachuted into Detroit and found a hard-luck city whose spirits nonetheless brightened because some local college boys were playing well in a basketball tournament. Or because the city's hockey team was close to winning a shiny trophy. Or because a professional basketball team that plays a half-hour away in the suburbs signed a couple free agents in the offseason.
No, this one is about the 2009 Tigers, "a collection of hitters who really do run out ground balls," reports Sports Illustrated's Lee Jenkins in this week's cover story. Why do they run out ground balls? Because they look up in the stands and see, as Inge puts it, "families ... who are fighting to keep their houses and feed their kids."
Jenkins writes:
The sweetest image of this baseball season is the sight of Comerica Park, filled from the box seats to the bleachers. At the end of spring training, the unemployment rate in metro Detroit had climbed to 23%, the average home price fell below $12,000, and the Tigers calculated that season-ticket sales were down 13,000. Corporate sponsorships and luxury-suite sales were also taking a hit.

[...]

The financial forecast in Detroit has not necessarily brightened, but in a development as unexpected as Chevy's unveiling of the Volt, the Tigers have provided a jolt — electrifying for much of the summer, slightly terrifying recently — for the city. They rank fourth in the American League in attendance, at 31,360 per game; are fifth in the majors in payroll, at more than $115 million; and, through Sunday, were still in first, albeit tenuously, thanks to a September skein of nine losses in 12 games. They were also 48-26 at Comerica Park, a record they attribute to the overwhelming responsibility they feel playing in front of their home fans, many of whom are presumably using what little discretionary income they have to watch the team play. In his first spring training meeting manager Jim Leyland told his players, "People are going to be spending some of their last dollars to come to these games, and we need to give them our best effort. This is not the year not to run out a ground ball."
G/O Media may get a commission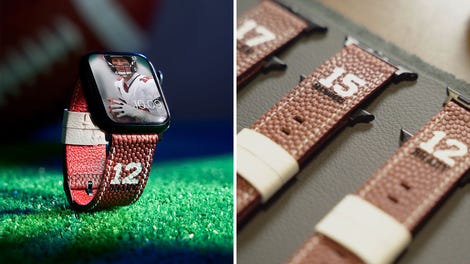 Official NFL PRODUCTS
Official NFL Apple Watch Bands
It's a fairy tale, of course. The Tigers are winning because of Miguel Cabrera's bat and Edwin Jackson's arm, not because the latest round of unemployment data really fires up the clubhouse. Besides, attendance at Comerica Park is actually way down this year, from 98 percent capacity last season to 78 percent — "the biggest free fall" in baseball, according to Forbes — and it should further be noted that a fan blowing "what little discretionary income" he has on a baseball game would be better off dropping it at the Greektown Casino instead. This a silly story. That should go without saying. But there's something particularly obtuse in the suggestion that a pennant race — or a basketball game or a shiny hockey trophy — might actually help Detroiters feel better about themselves. It trivializes real suffering. It's like saying a terminal-ward patient might feel better about himself if someone bought him a big red balloon.
Tigertown [Sports Illustrated]