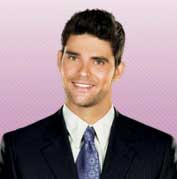 FishbowlNY editor Dylan Stableford occasionally writes for Deadspin about tennis. Here's his take on the new reality show about Mark Philippoussis deciding between young women and old women. (Or something like that.)
If there's anything worse than NBC Sports programming, it's NBC's prime-time lineup. Newly installed NBC Entertainment president Ben Silverman's solution? Why, Mark Philippoussis, of course. NBC has cast the six-foot-five 30-year-old Australian hardcourt specialist in its latest reality, Age Of Love (get it? Get it?) in which Philippoussis, currently the world's 134th ranked men's singles player, dates 13 women — six "fun, enthusiastic 'kittens' in their 20s" and seven "beautiful, sophisticated 'Cougars' in their 40s" (seriously, NBC is calling these women "Cougars") in search of his eternal mixed doubles partner.
NBC sent Deadspin a roughcut screener, and let's just say when it comes to reality television, Philippoussis is no Jesse Palmer. In the first episode, premiering Monday, June 18th at 9PM, Mark "is first introduced to the 'Cougars.' As he meets them one by one, their ages increase, much to his surprise. The series takes a dramatic turn when Mark learns there's a second group of much younger women — the 'Kittens' — who will also be attempting to vie for his affections."
Future episodes are expected to see the girls attempting to vie for Mark's affection during serve-and-volley drills, USTA tournament withdrawal etiquette quizzes and French bikini clay court wrestling.
Stableford:
Sharapova Fingered In Bananagate [Deadspin]