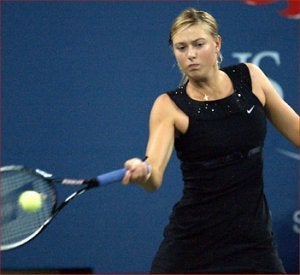 Dylan Stableford is the editor of media blog FishbowlNY and will write occasionally on the U.S. Open.
Last night Maria Sharapova won the women's U.S. Open tennis final 6-4, 6-4 over Justine Henin-Hardenne, a short, scrappy, Pong-like player from Belgium. It was Sharapova's second Grand Slam title and first since winning Wimbledon in 2004 as a 17-year-old. Her forehand was dominant. Her serve was dominant. Even her netplay was well done. Her skin was glistening. Her dress was Breakfast At Tiffany's-inspired. And her father Yuri was, as usual, scary.
But leave it to the media to fixate on a piece of fruit and four fingers in the post-match press conference:
"I just won a Grand Slam. The last thing I'm gonna talk about is some fingers or a banana, all right?"
Those fingers belonged to her hitting partner, Michael Joyce, who was sitting in her box gesturing, signaling - gasp - coaching Sharapova during a changeover. In the quarters, her father used a banana to signal her to eat one, sparking debate over whether the gesture was a violation of the USTA's no-courtside coaching policy. A USTA spokesperson said it did not appear to be a violation.
After all the fingers and bananas, Sharapova hoisted the U.S. Open trophy, only to have the top pop off onto her head.
Not even going there.
Stableford: Week 2 Matches Not Featuring Grown Men Sobbing [Deadspin]
Stableford: Long Night In Flushing [Deadspin]
Stableford: A Night Of Agassi [Deadspin]