LeBron James spent large portions of Game 2 punking the Detroit Pistons. He dunked all over Reggie Bullock and let everyone know how awesome it felt, he stink-faced Marcus Morris for daring to leave him open, and he gave rookie Stanley Johnson a meaningful bump during a timeout:

Johnson, who has been tasked with guarding James for parts of this series, took exception with that moment, and said as much after the game (via The Vertical):
"That was fugazi," Johnson said, using a slang term for fake. "He didn't bump me. I just didn't move out of his direction. I don't know what y'all take from that. I don't take anything from it. But a cheap-ass shot, a cheap-ass bump."
You know what? Props to the rook for sticking up for himself, and not being afraid to call out James for what was honestly a bit of a dick move. What else do you have to say, Stanley? You're on a roll!
"I'm definitely in his head, that's for sure," Johnson said. "That's for sure."
Oh, no, Stan.
G/O Media may get a commission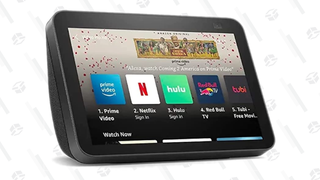 Stan, you are in huge trouble now.