You know, it's really annoying when athletes-masturbating-in-libraries stories break in the evening and we have to wait until morning to write about them. If we can't be your leader in library masturbation coverage, we're not sure what our point is.
Anyway, Penn State guard Stanley Pringle was charged yesterday for getting his Mike Cooper on.
Police said Pringle, the team's point guard, sat behind the victim in the stacks section of the library, attempted to start a conversation with the woman and began masturbating. Police have filed charges of public lewdness and disorderly conduct against him in connection to the incident, but Centre County District Judge Jonathan Grine, who is out of the office, was unable to sign the criminal complaint as of 2 p.m. today. Without the signed complaint, Pringle cannot be formally arrested.
For the record, Penn State is denying the charges.
So, did this:
exhaust every possible library masturbation joke you could come up with? Let's find out.
G/O Media may get a commission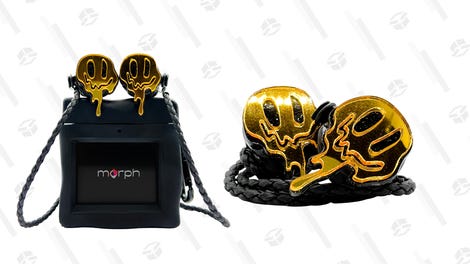 morph audio
Morph Earphones
Basketball Player To Be Charged In Library Masturbation [Daily Collegian]

Deadspin Hall Of Fame: Carl Monday [Deadspin]
(By the way, it's just great to see that video again. We miss it sometimes.)